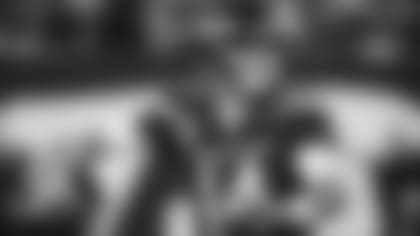 Sam Darnold's second start on Monday Night Football had a similar beginning to last year's season opener with an interception on his first pass attempt, but a much different end result.
While the Jets rebounded to rout the Lions, 48-17, after Quandre Diggs' pick-six to start Darnold's career, the Jets were shut out by the Patriots, 33-0, in Darnold's worst pro performance. His first pass was intercepted by Patriots S Devin McCourty and things got worse from there.
"We have to go out there and play better," said the 22-year-old, who completed 11 of his 32 passes for a career-low 86 yards and had a career-high five turnovers (4 INT, 1 FUM). "Plain and simple."
The second-year signal-caller turned the ball over on three of the Green & White's first four drives. McCourty picked Darnold off on the opening series and two possessions later, LB John Simon knocked the football out of Darnold's hands on a strip sack that Kyle Van Noy recovered, which set New England up on the Jets' 38-yard line. The next drive, CB Duron Harmon put an end to a Jets' red-zone march as he recorded an interception on the 1-yard line. 
"It sucks," Darnold said. "That first pick, it wasn't a good feeling and right there, that's the one I'd like to have back because if I don't throw that, I do feel like it's a different ballgame. It's easy to say after the a loss like that. I just have to play a lot better as an offense and collectively as a team, we need to get better and we will."
Darnold completed just six of his 13 first-half pass attempts for 33 yards and the offense totaled 65 yards in two quarters. Already down 24-0, Darnold continued to struggle in the second half while trying to jump start the offense and tossed another pair of interceptions, one of which halted another red-zone drive. The 6'3", 225-pounder tried to loft a pass to WR Demaryius Thomas, but former Jet Terrence Brooks leaped up and came down with the ball.
"I definitely think I was pressing too hard, trying to get a 24-point score in one play," Darnold said. "I just have to take it one play at a time and continue to play the game the way it's meant to be played."
The 2018 No. 3 overall pick said his performance Monday night was one of the worst of his football career at any level as he finished with a 3.6 passer rating against the NFL's No. 1 defense. The Patriots sent the heat early and often, which forced Darnold to often throw off schedule and head coach Adam Gase summarized the team's performance as "brutal."
"Obviously when we go back and look at this, he (Sam) is not going to be happy," Gase said. "He probably was feeling like guys were coming free when guys might not have been. It's tough. Playing against these guys, if you don't pick some of that stuff out early, they're going to keep bringing it and they're going to find different ways to bring it, and it's going to get bad from there, which it did."
Gase checked on Darnold postgame as did RB Le'Veon Bell, Darnold's locker neighbor, and the latter offered some advice to the young quarterback.
"I think he'll learn a lot from tonight," Bell said. "Sometimes you have to have that as a young player. I had games like that and it made me better. Hopefully that's a step for him. He'll get better and watch the film. When you play teams like the Patriots, they're the best at what they do on defense, he's going to learn from that and he's going to get better."