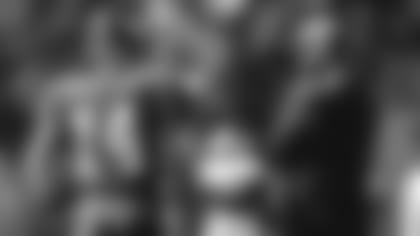 Even though Jets quarterback Sam Darnold has not been cleared to play against the Eagles, he's gearing up like he's going to return Sunday.
"I think, for me, obviously, the results are going to speak for themselves. The doctors are going to make that decision, but right now, I'm preparing and I'm practicing like I'm going to be the starter," Darnold said. "(I) thought I had a couple good days of practice considering I had a couple weeks off. I think I've been throwing it well, timing has been good for the most part. There's obviously some things we've got to work on, but I think I've been doing all right."
The second-year signal-caller, who missed the past two games with mono, returned to practice Wednesday on a limited basis and took most of the first-team reps in team drills both Wednesday and Thursday, wearing a red non-contact jersey. Darnold said he isn't worried about his stamina and hasn't showed many signs of rust on the field.
"I feel like I'm good enough to play," he said. "My energy is great. I'm having fun out there, having a good time in the huddle, breaking the huddle, just playing football. It's good to be back from that standpoint. I feel like I'm good to go, but obviously there are some things that need to get cleared before that happens."
It's a tough situation for Darnold because no matter how he feels, the final call will be determined based on the results of an ultrasound of his spleen and blood tests on Friday, which is out of his control.
"For me, sitting back and watching the team play and not having anything to do with the win or the loss, it's not a good feeling for me," he said. "So, if there's one thing I've realized throughout this time sitting down is that it's a privilege to play this game. I'm just excited to get back out there whenever it is. For me, it's sooner rather than later is my mindset, but I know that I've got to let the doctors do their job."
Whenever the 6'3", 225-pounder returns to the field, he'll wear custom-made XTECH pads that provide extra hard plastic around the ribs to prevent any injury. If he receives the green light to play against the Eagles, Darnold hopes to provide a boost for an offense that hasn't scored a touchdown in the two games without him.
"I would hope so. I want to be able to have an impact on the game," Darnold said. "That's why I play this game, that's why I play the position that I do. Really, it's going to take all 11 out there when we're on offense. It's not just me. It's the guys believing in the play call, us going out and executing it and if we do that every single play, we'll score touchdowns."
See Top Photos from the Practice Field Leading Up to the Road Game in Philadelphia