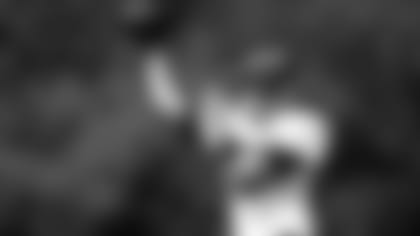 Despite taking most of the first-team reps in Wednesday's and Thursday's practices, Sam Darnold will miss his third consecutive game with mono and Luke Falk will start against the Eagles.
"We felt like the doctors made a good suggestion yesterday to get ahead of it as far as testing him, which was probably the right call and the labs didn't come back the way that we were hoping," head coach Adam Gase said before Friday's practice. "I know Sam is disappointed, but we're able to adjust, work quickly and our guys have done a good job with any kind of changes that we've had to make."
Darnold, who said earlier this week that he felt good enough to play, was cleared for non-contact activities as he returned to practice as a limited participant. However, he didn't clear Thursday night's medical tests to be fully cleared from the illness, which causes the spleen to enlarge.
"I felt bad," said Gase, who didn't have an indication whether Darnold will be cleared to play in Week 6 against the Cowboys. "When we told him, of course the first thing he says is, 'I feel like I'm letting the other guys down.' It's not about him. He tried to do everything he could. He did everything he was asked to do, he did everything the doctors told him to do, it just didn't work out for him. I know the guys, they always do a good job, they rally quick. Good thing is Luke was all in and was wired in and knew this could happen."
Even though Darnold received the lion's share of reps in practice this week, Gase and the Jets knew it was a possibility their second-year signal-caller would not be cleared to play Sunday and planned accordingly. Falk, who completed 12 of his 22 passes for 98 yards and one interception against the Patriots in Week 3, received the bulk of the reps Friday and will start his second professional game Sunday.
"We've been working both of those guys and the competitiveness we've had at practice, especially on scout team, [Falk] has had a lot of reps, too," Gase said. "We had increased reps as far as scout team type of things. That was more because of the bye, we wanted to change things up and move our practice schedule around a little bit. It just worked out that way."
The Jets also re-signed QB David Fales to back up Falk this Sunday and placed DL John Franklin-Myers on injured reserve.
Fales first joined the team Sept. 18 leading up to the Patriots game and was released five days later. The fifth-year pro played under Gase in 2015 with the Bears and 2017-18 with the Dolphins. The San Jose State product has played in three regular-sason games, completing 64.6% of his passes for 287 yards, one touchdown and one interception.
The Green & White claimed Franklin-Myers, who was drafted by the Rams in the fourth round of the 2018 draft, Sept. 1. The Stephen F. Austin product played in 16 games last season for Los Angeles, recording 10 tackles and two sacks.