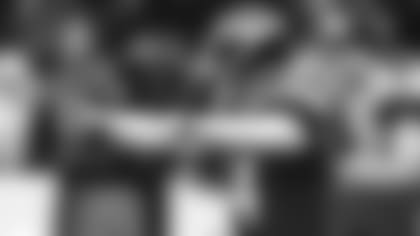 Sam Darnold is the second-youngest player on the Jets roster, but the Green & White's starting signal-caller already has played two professional seasons and has 26 NFL starts under his belt. And while Darnold wasn't happy to miss a second consecutive postseason, he progressed his sophomore campaign and believes there are better days ahead.
"It's flying by, man," Darnold said. "It's funny. After the good win we had in Buffalo, with all the travel in between, we were all talking about how crazy it is, how fast everything is flying by. I was talking with Jonotthan Harrison and Trevor Siemian — some of the guys who were next to me in the plane and the bus —about how many years they've been in the league and what year they're going into."
Darnold was better across the board in Year 2, upping his numbers in completion percentage (57.7 to 61.9), pass yards (2,865 to 3,024), total touchdowns (18 to 21) and passer rating (77.6 to 84.3). He also lowered his interception total (15 to 13) yet Darnold remains singularly focused.
"This year there was a lot of adversity that we dealt with as a team. I thought our guys deal with it well," he said after the Jets finished 6-2 in the season's second half. "For me personally, I don't get too caught up in the numbers. The only thing that really matters to me are wins and losses."
For the second consecutive season, Darnold started 13 contests. He had a three-game improvement in the win column, going from 4-9 in Year 1 to 7-6 in Year 2. Despite missing Weeks 2-4 with mono and then facing a 1-7 hole halfway through the season and playing behind numerous OL combinations, Darnold was one of the reasons why the Jets reversed their fortunes.
"The more football that I see, the more comfortable I'm going to get. With more experience, the better I'm going to play and the faster I'm going to play and the quicker I'm going to be able to uncover things," he said. "That's really it for me, just understanding what the defense is doing before the play even happens. The more that we hang out or the more we talk in the locker room, I feel like the more comfortable I am to be able to make checks at the line of scrimmage. And even if I'm wrong, we're all going to be wrong together."
Darnold heads into the offseason with more certainty than he's had in years. A two-year starter at USC, Darnold was the third overall selection in the 2018 NFL Draft. The 6'3", 225-pounder played under head coach Todd Bowles his rookie year and in an offense coordinated by Jeremy Bates. The Jets hired Adam Gase as their head coach last January with the hopes Gase, who also doubles as the offensive's play-caller, would help Darnold take the next step. They experienced some success together and Darnold now has the comfort of knowing he'll operate in the same system in 2020.
"With this offense, I feel like it's super easy to find completions which is huge. The more you can spit out the ball in the NFL and find guys in the flats," he said. "Obviously you want to take your shots, you want to be able to score touchdowns in this league and create explosive plays, but you have to take them when they come to you. That's the big thing in this offense is finding the completions, and as long as you find completions and get the ball out of your hand fast, the defensive line doesn't play as fast and the DBs don't know what's going on when the ball is getting out so fast. It's just really fun to be in this offense with how fast I can get the ball out."
Darnold's second NFL campaign came to an abrupt end and the 2020 regular season is eight months away. He refuses to get ahead of himself though, embracing the work ahead that will commence in the spring.
"I kind of felt the same at the end of last year. I felt like we were moving in the right direction, felt a good rhythm and then that's it, Week 17 and you're done," he said. "Hopefully this time next year we're getting ready to play in the playoffs, but it really does start in OTAs and then in training camp. You really have to continue with the process. You have to love the process in the NFL because if you try to skip steps and try to move onto Week 1 and really start thinking about the next season right now, you can get caught up a little bit.
"It's been fun though, I had a blast this year, great teammates, obviously great coaches," he added. "The organization I feel really is headed in the right direction and we couldn't be more excited."