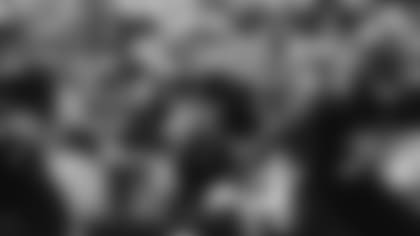 Sam Darnold's stats in the Jets' 22-21 win over the Dolphins aren't eye-popping, but Darnold, 22, came through when his team needed him most. He led the offense on a 7-play, 41-yard drive with no timeouts that set up K Sam Ficken's 44-yard game-winning field goal as time expired.
"I think it's huge, especially when you practice that situation so much in the off-season," Darnold said. "To be able to execute that in a real game, it's huge for our confidence. At the same time, we practice it all the time, so we just went out there and did our job. Vyncint [Smith] made a great play out there and obviously Sam did a great job kicking the ball."
Smith was the focus of two vital, final-drive plays — a 37-yard catch-and-run and a defensive pass interference. Both plays involved Dolphins CB Nik Needham. Needham lined up across from Smith on the 37-yard reception that set up the Jets on Miami's 38-yard line with 1:29 left. He blitzed and nearly batted down Darnold's pass.
"I didn't know he was blitzing," Smith said. "I reacted off of him and skipped off. Sam threw a perfect ball in there and I just ran as fast I could. I wanted to score. I'll try again next week or something, but I made a play when I was there and we won the game. That's what I'm happiest about."
Darnold added: "For Vyncint to make that play for us, it was huge. It was a really good drive. I shouldn't be taking sacks in the two-minute, especially with no timeouts, so that was bad by me. But our guys, like they were all game, they were resilient and we just kept pushing."
Three plays later on fourth-and-18, Needham was called for pass interference after review, which gave the Jets a first down with 47 seconds left. Four plays later, Ficken's kick gave the Jets their fifth win.
"It was clear and obvious that the receiver did get significantly hindered prior to the ball getting there," Senior VP of Officiating Al Riveron said.
Despite the win, Darnold wasn't pleased with his performance. He completed 55.6% of his passes and threw for 270 yards, 2 touchdowns and 1 interception.
"I think, for me, there were some things throughout the game that I could've done better," he said. "It wasn't pretty, but we got the job done and that's all that matters. We're going to learn from the tape tomorrow and go from there."
Darnold's play was a tale of two halves. He had a 130.5 passer rating in the first half. He completed 10-of-16 passes for 141 yards and 2 touchdowns (Robby Anderson and Demaryius Thomas) compared to 10-of-20 passes, 129 yards, 0 TDs and 1 INT in the second half.
"We got in a really good rhythm the first half," Darnold said. "The second half, I thought I didn't play as well as the first half, to be quite honest. I know there are some things on tape that I'm not going to like when I see it. For me, I just have to learn from it. Our guys have to learn and we'll do better."