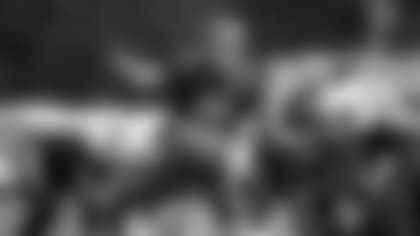 Sam Darnold has yet to meet his new center, but already knows what Ryan Kalil will bring to the Jets.
"I've heard great things. I got a few texts last night from some people and they're saying nothing but great things about him," said Darnold of the fellow USC product. "They're just like, 'He's a great dude, great leader, but also, he's just going to come in and work.' Those are the kind of guys that we want here at the Jets and we're happy to have him."
Kalil's résumé is well decorated. A five-time Pro Bowler and two-time first-team All-Pro, the 34-year-old has started 145 games over his 12-year career and adds a wealth of knowledge to the pivot that the Green & White haven't had since Nick Mangold retired.
"He's seen a lot of football," the second-year signal-caller said. "To have a guy out there that you'll be able to watch tape with him, we'll be able to know when something's coming just by watching tape. And on the field on Sunday, he'll be able to recognize something and fix the protection himself. We'll be able to get going that way and I think it will help with tempo as well. There's so many things that such a vet center can bring for the team and we're excited to have him."
Kalil still needs to pass his physical before signing and practicing, but assuming all goes well, he'll need to quickly gel with Darnold and the rest of his teammates while learning the offense.
"There's a lot of things that the center takes off the quarterback and with the guy that's coming in, he knows a form of our offense. Not the exact same, but he's been in one that's similar," head coach Adam Gase said. "He's going to be able to help us out in that aspect and it's going to be about those guys communication and really getting on the same page quickly."
Left guard Kelechi Osemele, one of Kalil's new neighbors up front, said building chemistry between offensive linemen happens naturally because they work together every play. Like Darnold, Osemele's knowledge of Kalil is only through word of mouth, but he also received positive feedback on the 6'2", 300-pounder.
"I'm actually interested to see what his leadership style is," KO said. "Him coming into the room and being the oldest guy and also being the center, last time I had a veteran player like that, it was Matt Birk. I'm interested to see any similarities between those two and see the dynamic between him and our offensive line coach and to see his technique, how he takes to what we're doing here or is he's going to do his own thing technique wise. I'm just interested to see how he approaches it."
Gase said Kalil, who was set to retire following the 2018 season, trimmed down initially but is already back at a playing weight. There's no timeframe regarding Kalil's first practice in green and white, but Gase is "fired up" about the team's newest addition.
"Physically, he had a pretty good year last year," he said. "When you go back and watch the film last year, he played well. That's a big reason why he's coming here, because he's a really good player."