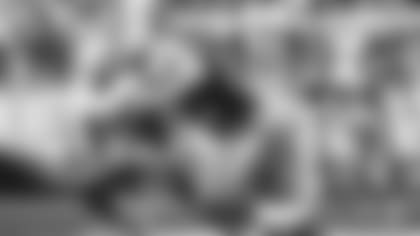 As the Jets prepare for their third game in 11 days on Thursday night, they're not looking back — Sam Darnold and the rest of the team are already studying up on the Browns.
"First of all, I think his guys are always ready to play every single game," Darnold said of Browns defensive coordinator Gregg Williams. "They come out fiery and at the same time, they bring pressures that no one has ever seen before. At the same time, we're going to be ready. I'm focused on what we're doing, but also what the defense is doing and how we can attack them."
Having a short week is a new challenge for Darnold, who became the youngest rookie in NFL history to throw for over 300 yards Sunday, and he said he's ready to take it "head on." After a quick review of his performance in the team's 20-12 loss to the Dolphins, the USC product believed he played well minus his pair of picks.
"I think for me, it was more about understanding where he is at all times," Darnold said of Dolphins safety T.J. McDonald, who recorded the rookie signal caller's first interception Sunday. "I thought he went with the inside dude, so I tried to fit it outside. I didn't realize he was there, obviously. If I saw he was there, I wouldn't have thrown it. I just have to be more aware and I'm not making any excuses, but that's going to come with time."
Three days removed from their next game, the Jets' studies are more condensed than a full week. Darnold said his goal before Thursday is "understanding our game plan, where our guys our going to be and understanding their pressures and the coverage they're going to play behind it."
While the benefit of time is neither on the Jets' nor the Browns' side before they square off, Darnold and Jets head coach Todd Bowles believe practicing against the Green & White's defense throughout the spring and the summer will help the rookie signal caller come Thursday night.
"It's not like he's going to see anything that he hasn't seen," Bowles said. "They disguise well, he just has to play his game and the other ten guys on offense has to do their job."
Regarding the Browns defense, he later added, "They disguise very well, they move around very well and they're very fast. They have a great understanding of what they're doing and that makes it awfully difficult for an offense and they've made it awfully difficult for people."
Thursday will mark the third consecutive year the Jets and Browns have played in the Dawg Pound. As Darnold prepares for his second NFL primetime game, he has someone in his corner that's familiar with a thing or two about FirstEnergy Stadium and the Brownies — fellow quarterback Josh McCown.
"Every stadium, every environment on the road is going to be hectic, especially primetime games," Darnold said. "We're definitely getting ready for it, but Josh, having played there before, has a pretty good understanding of what it's like in there. He's been able to share some things with me."
Jetcetera
Bowles said TE Neal Sterling will likely miss Thursday's game (concussion). … OLB Josh Martin (concussion) and S Marcus Maye (foot) did not practice, but it's too early to tell if they'll play Thursday night. … LT Kelvin Beachum and James Carpenter were both limited in practice with foot injuries. … WR ArDarius Stewart returned to practice after a two-game suspension and Bowles said the team will make a decision by 4 p.m. Tuesday whether or not to activate him to the 53-man roster.