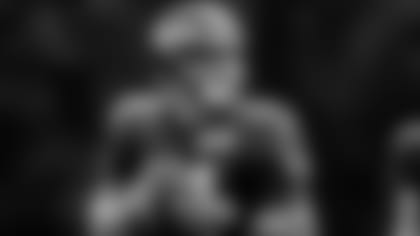 This story will also appear in the New York Jets Special Advertising Supplement in Friday's New York Daily News.
The New York Jets enter the 2019 season with a new general manager, a new head coach, a trio of shiny new offensive weapons and a pair of new defensive signal-callers to join an established star in the backfield. But the quarterback has already been in place for more than a year and there is reason to believe that the 22-year-old entering his second season is poised to take a quantum leap.
"He's not the kind of quarterback you're looking to protect," head coach Adam Gase, who spent the previous three seasons in the same capacity in Miami, said of Sam Darnold. "You're kind of looking at it in terms of let him work the offense and get on the ball and use the running game to help him. There are no limitations on Sam and it's fun as a playcaller."
Despite learning his third offense in as many years, Darnold had an excellent training camp before thriving during the Jets' early preseason contests.
"He's very accurate," said RB-WR Ty Montgomery, who joined the Jets in April. "He throws a really accurate ball, especially moving outside the pocket, and he's very mobile. He's pretty fast — he's faster than I thought he would be. And he's able to do this thing where he can set his feet one way and throw the ball the other way. He's very talented."
Over the past few years, Patrick Mahomes, Jared Goff, Carson Wentz, Mitchell Trubisky and Deshaun Watson all took their games to another level in their second seasons. There is a growing confidence at One Jets Drive that the pro career of Slingin' Sam, who connected on 64% of his passes last December with six touchdowns and one interception, is about to take flight.
Sam Darnold: Key Word Is 'Attack'
"I think the sky's the limit," said speedster Robby Anderson of Darnold. "I think what we build and what we do is going to speak for itself. The work he puts in is going to be on display."
The 6'3", 225-pound Darnold has more pieces around him to succeed. Gase is a bright offensive mind, and two-time first-team All Pro Ryan Kalil will provide another coach on the field at center while former Raiders LG Kelechi Osemele has plans on setting the tone up front and returning to his Pro Bowl form. Plus RB Le'Veon Bell is chomping at the bit after a season away from football, Jamison Crowder is a steady if not spectacular slot target who can win in small spaces and run past people, and Montgomery is another Swiss Army knife in Gase's drawer.
"We have a bunch of guys that can make plays and play all over the field," Darnold said. "Whenever you have that, it makes the defense second-guess themselves. I think as long as we continue to attack that way — the key word there is 'attack' — as long we keep doing that and really keep the defense on their toes and make sure they don't exactly understand what's coming at them, I think we'll be all right."
The 27-year-old Bell has averaged 129.0 scrimmage yards/game in his career, which equates to 2,063 yards over a 16-game regular season. He joined the Jets in the spring after a year off and physically feels better than ever. His might be a case of "out of sight, out of mind" because the 6'1", 227-pound Bell was downright filthy his last two seasons in Pittsburgh, averaging 1,280 yards and eight TDs on the ground and 80 receptions and 636 yards receiving in 2016 and '17.
"Maybe a lot of people forget a little bit just because of the fact that they haven't seen it in a long time," Bell said after a minicamp practice. "It's normal. That's what humans do. But I feel like once I go out here and I play, first game coming up, people will be reminded."
Gregg Williams: A Different Swagger
Defensively, veteran coordinator Gregg Williams will lead the way. He told his unit that there are only two paces — walkthrough and fast, and the Jets spent the summer racing to the ball and always picking up loose change. Williams has 42 defensive packages, so opponents are sure to know the pressure is coming, but where it's coming from is a totally different question.
"G-Dub brings a different swagger to the defensive side of the ball," said safety Jamal Adams said of Williams, who coordinated a Browns unit that was second in the NFL with 31 takeaways in 2018 and also had a 5-3 mark as Cleveland's interim head coach. "I can tell you we're going to be in shape — I can definitely tell you that — and we're going to be flying around the ball."
The 23-year-old Adams, an LSU product who has talked of reversing the Jets' fortunes since coming on board as the sixth pick in the 2017 NFL Draft, is a loquacious dude who does more than back up his talking. But the 2018 Jets MVP has entered his third professional campaign stressing the importance of daily consistency.
"We're not putting expectations on our season," he said. "We're not doing that regardless of who we added to the culture, to the organization. It's about day-by-day, taking it one step at a time, and just getting better."
C.J. Mosley: We'll Compete Every Week
The defense needed a signal-caller and Gase targeted a culture changer, so the Green & White wouldn't take a no from C.J. Mosley in free agency before inking the four-time Pro Bowler to a lucrative deal. Williams is comfortable putting his unit in the hands of one of the game's top defenders.
"He's not an extremely highly vocal guy but he sets the example by how he goes about doing his job and he understands the routine of being a pro, being a real pro," Williams said of Mosley, whose 15 individual takeaways from 2014-18 are tied for second-most by any linebacker in that span. "He's excited about the flexibility now, all of a sudden, even being more of a quarterback of the defense and having the checks and the audible systems and the things that we teach. He's been very good and it will be fun."
The understated Mosley said the Jets will be eager and ready while adding that the whole NFL is sleeping on them. The club's most important summer addition — GM Joe Douglas — is at the controls of shaping the team throughout the season and in the years ahead. It's not a finished product, but Douglas, a three-time Super Bowl winner at 42, has an immensely talented young quarterback on the roster to build around.
"We're going to compete each and every week," he said, "and I can tell you that we're going to find the best people and the guys that love football and perform every week, and just try and build this thing one day at a time."