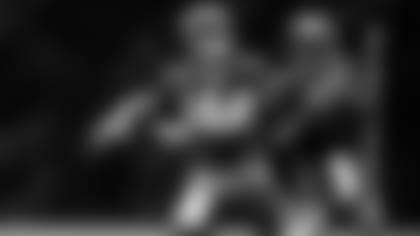 Six days away from the regular-season opener, Jets quarterback Sam Darnold is having difficultly holding back his excitement regarding this year's team and has "jitters" knowing it's game week.
"Electric," Darnold said of this year's offense. "I think we're going to do some fun things out there with all the tempo and all the different things we can do. It'll be fun, it will be fun to watch us and hopefully we are going to put up a lot of points."
The last time the Jets took the field in the regular season, the team was wrapping up its 2018 campaign in Foxborough, MA with a promising young quarterback, a lot of cap space and a high draft pick. Despite adding several talented players in the offseason, especially on offense, there are still a lot of unknowns surrounding the unit.
"It's not that I'm expecting there to be growing pains, but if there are, we're just going to roll with them," Darnold said. "We're going to play it one play at a time. If something happens during the course of a series, I might go the sideline and tell [Adam] Gase how I'm feeling back there, how the defense is responding and all of that. We're just going to try and figure things out. Right now, especially, we have a really good foundation for where we want to go."
Perhaps the biggest question mark for the Jets comes up front as the Green & White starting offensive line hasn't played a snap together and only practiced as a unit a handful of times. And C Ryan Kalil, who came out of retirement to join the Green & White, did not suit up once in the preseason.
"I think with Ryan, he's such a vet. He's been through a lot and he's seen a lot of looks that we're going to see on Sunday, so I'm not expecting too many growing pains," Darnold said. "For me, it's just about keeping things consistent — I think just in terms of the cadence and all that. Obviously, we're going to mix it up, but for the most part keeping things really consistent and stable."
While Jets fans may be focused on Kalil, the NFL will be watching RB Le'Veon Bell's return with a close eye. The three-time Pro Bowler will play in his first game in 601 days on Sunday, but Bell feels good about where he is at and Darnold is ready to use his new weapon in game action.
"First of all, the way he is able to protect out of the backfield," Darnold said. "Also, if the linebacker has him matched up out of the backfield, I know he's able to win that matchup running a route and running the football. There are so many different ways he can help, but it all starts with the offensive line. We all know that, but we can count on Le'Veon to find that opening and find the crease in there."
As Darnold prepares to square off against his friend and AFC East foe Josh Allen for the second time in their careers, the 2018 No. 3 overall pick is excited for Round 2 against 2018's top passing defense.
"We (Josh and Sam) are both competitive guys and I think for me, going up against the same Buffalo defense that I went up against last year, it's going to be fun to see the different looks that they bring me, different kind of pressures," Darnold said. "It'll be fun to see what Coach McDermott has up his sleeve this game."