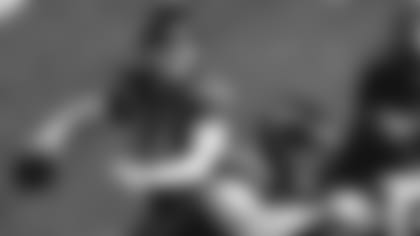 For Sam Darnold on Sunday, it was another clean game, mistake-free, modest, efficient. Two touchdown passes, and a couple of crucial and gutsy runs. And for the second straight game doing enough to lead the Jets to another impressive upset victory against an opponent with playoff designs.
"In terms of not turning over the ball and being consistent, I think I played well," Darnold said after the Jets' 23-16 win over the Cleveland Browns at MetLife Stadium. "There were some decisions maybe I'd like to have back, not taking some of the throws that I could have made. There were some decisions I'm going to want back. But I'm happy not turning the ball over and scoring when we had to."
For the second week in a row, after last week's first win of the season at Los Angeles, the Jets built a healthy lead against the Browns (10-5) then needed the defense to rise up and ultimately protect the "Dub."
Darnold and the offense had their moments, and they came primarily in the first half as the Jets built a 13-3 lead.
Midway through the second quarter, Darnold served notice that any lingering doubts about the right shoulder that kept him out of several games were not on his mind. On a first-and-10 from the Jets' 10-yard line Darnold broke out of the pocket and put a shoulder into Malcolm Smith, gaining 11 yards.
Darnold did have a hand in the Jets' first TD pass, although he wasn't the one who threw it. He took the snap from center Connor McGovern, handed off to Ty Johnson who flipped the ball to Jamison Crowder. Crowder launched a missile to Braxton Berrios down the near sideline completing a 43-yard TD play.
Darnold would catch up to Crowder later with his scoring tosses. But the last time two different Jets, one a quarterback and one non-QB, threw TD passes in a game was in 2010 at Buffalo: Mark Sanchez (2 TD passes), and Brad Smith (1 TD pass) out of Wildcat to TE Dustin Keller.
In the game, Crowder (92 receiving yards, 43 passing and 14 rushing) became the first NFL player since 2001 (David Patten, New England), and only the second NFL player in the last 61 seasons with at least 90 receiving yards, 40 passing yards and 10 rushing yards in a game, according to 360.SportsRadar.
"On the sideline I told him the next series he might think about some snaps at Q," Darnold said, with a laugh. "What a dime. I was blocking and I looked to see if Berrios was wide open. He threw it perfectly. It was awesome to see."
The Jets built on that 7-3 lead, scoring on Darnold's seventh TD pass of the season early in the second quarter. It was a bullet to Chris Herndon (4 receptions for 34 yards) on a third-and-5 play from Cleveland's 11-yard line.
"I feel like I was locked in today," Herndon said. "I knew someone would have to step up today at a high level and for my team and I'm just happy for this win. I don't want to focus on the individual."
Darnold had a strong first half, hitting 7 of 14 for 76 yards and leading the Jets' rushing attack with 3 carries for 22 yards.
On the opening drive of the second half, Darnold zipped a first-down pass to Herndon between two Browns linebackers for 7 yards; then hit Crowder for 25 yards on third-and-4 to the Browns' 34. Darnold capped the drive when he connected with Crowder for a 30-yard TD pass for a 20-3 lead. The drive covered 8 plays 75 yards and took 4:34, Darnold was 3 for 3 on the possession.
That Jets score came with 10:32 left in the third quarter, but they could not put together a scoring drive the rest of the way until a late Cleveland turnover gave them the ball on the Browns' 17-yard line. Tarell Basham (two forced fumbles in the game) strip-sacked QB Baker Mayfield and John Franklin-Meyer recovered. Sam Ficken, who had a FG and a PAT blocked in the game, converted from 34 yards and the Jets led 23-16 with 2:52 to play.
Darnold finished his 50/50 day going 16 of 32 for 175 yards.
"He did enough for us to win and a good job protecting the football," Head Coach Adam Gase said. "They're a tough defense to go against. Their front is good. We couldn't get anything explosive [other than the flea flicker] and it felt like we had to get a drive together to get down field."
Now even after a couple of victories, Darnold would not engage in what-if games.
"We've been more consistent, but obviously it's too late," he said. "But it's huge for our guys who are so resilient playing the way we did as an offense struggling in the second half. The defense and specials having our back. I'm super proud of the guys. We had a huge win in LA last week then came into work on Monday, the whole week and had a good week.
"We're ready for another tough challenge in New England."