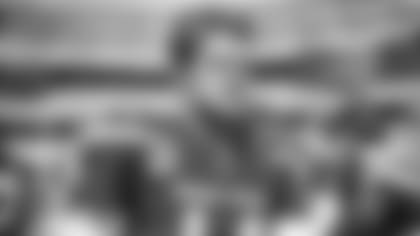 Jets head coach Adam Gase told reporters Thursday morning quarterback Sam Darnold has mononucleosis and will not play in the team's Week 2 matchup against the Browns. Trevor Siemian will start.
"He's still going through some of these tests to figure out where he's at with all of this," Gase said. "I know he's out this week and past that, I'll have more information as we go."
Gase received the news around 10:15 Wednesday night and told his signal-caller in person, along with offensive coordinator Dowell Loggains and one of the team's trainers, that he will not play.
"Not well. He wasn't real happy about it," Gase said of Darnold's reaction. "He knew something was up when Dowell and myself showed up. I just wanted to make sure it was delivered right and I figured I could be the bearer of bad news on this one."
After receiving the bad news, Darnold immediately shifted his focus on how to best prepare himself physically for his return.
"Rest," Gase said of immediate remedies for his quarterback. "They're still going through and doing all these tests on him and things like that and kind of figuring out the best protocol. I know his biggest concern is weight loss. That was something that was alarming to him, that he lost some weight already in the last couple of days.
"Right away, he went into, 'Hey, I have to be sure I'm getting meals here,' because he can't be in the building right now. He was like, 'I need to make sure I get meals, I need to be sure I'm getting enough of what I need to keep my weight.' He went right into, 'How do I maintain?' "
The USC product, who originally thought he had strep throat, has lost about five pounds over the past few days and is undergoing more tests to receive a clearer timetable for a potential return. Gase informed the rest of the team this morning of Darnold's status.
"I look at it like this: It starts with me and my attitude," Gase said. "What's our attitude going to be? The sky is falling? Or is it this is a challenge we're going to embrace? Guys just getting tighter in the locker room and everybody coming together and doing their job as well as they can to help us win.
"I think we're going to look back at this and this is going to be a good thing for us. I think it's going to bring that locker room even tighter."
Quarterback Luke Falk will be promoted from the practice squad to the active roster at some point this week to back up Siemian.
"Nothing really crazy for us," Gase said of any gameplan changes. "The way we have it built, it's really flexible to where Trevor is good. We thought [Sam] was sick yesterday, they ran more tests, so with Trevor being able to practice yesterday, that'll help us."
Other Injury News
RB Le'Veon Bell (shoulder soreness) will not practice and will receive an MRI today. LB C.J. Mosley (groin), DL Quinnen Williams (ankle), DL John Franklin-Myers (foot) and WR Demaryius Thomas (hamstring) will not practice. Gase hopes both Franklin-Myers and Thomas will practice Saturday.