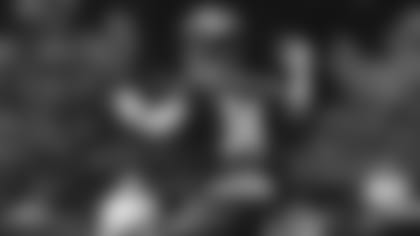 Following an offseason that has created a lot of buzz surrounding the Jets, second-year quarterback Sam Darnold has set the bar high for the Green & White entering 2019.
"A lot of wins," Darnold said of his expectations for the team. "I think, for us, we're really locked in on the present. This being the first day of training camp, making sure everyone is moved in to the hotel and getting everyone checked in and all that, that's really our main focus."
Both the offense and defense enter training camp with more talent last July with the additions of RB Le'Veon Bell and LB C.J. Mosley, among others. Head coach Adam Gase told reporters Wednesday the Green & White will be playing meaningful games in late November and December, a statement Darnold seconded.  
"I think there's enough talent on this roster to be a playoff contender," the former No. 3 overall pick said. "But again, for us, it's a one-week-at-a-time mentality. We have to take it like that. If guys are looking too forward in the future, I feel like we could slip up here in the present. I think you definitely have expectations of making it to the playoffs, and we definitely have the talent to do it, but I think the way you get there is focusing one week, really one day at a time."
Darnold's improved play in the final quarter last year has been well documented throughout the offseason, and with the first 2019 training camp practice imminent, the 22-year-old is focused on consistently finding completions his sophomore season and letting the game come to him.
Expectations are high for both the team and Darnold in particular, considering his improved supporting cast and the recent success of recent second-year signal-callers such as Carson Wentz, Jared Goff, Pat Mahomes and Mitch Trubisky.
"It comes with experience," said Darnold of that second-year jump. "Playing a lot of games last year and getting the NFL experience, it's helpful. The more reps you get in a game, the more comfortable you become. I think you saw that later in the year with my play the last few games, I felt so much more comfortable out there. The more games I play, the more comfortable I'll feel.
"With that being said, I'm just excited to get this thing rolling, start playing games with the weapons that we have on offense, the great O-line that we have, and obviously, the great running game that we're going to have, I think the sky's the limit for us."