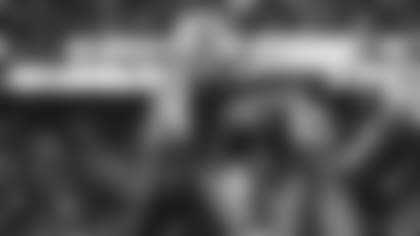 After connecting on a career-low 40 percent of his passes and having some new receivers up in the rotation, Jets quarterback Sam Darnold pointed to himself for the lack of execution in the passing game in the Jets' 37-17 loss to the Vikings.
"I think it's more along the lines of me just throwing with confidence," Darnold told reporters after watching film from Sunday's contest. "Whether I throw it to the right guy or I made the wrong read, every ball I throw, I have to throw it with confidence. If I do that, I think we'll have a better chance."
Without Quincy Enunwa (ankle) and Terrelle Pryor, who was released Saturday, Darnold's receivers included Andre Roberts, Charone Peake and newly promoted Deontay Burnett in addition to Robby Anderson and Jermaine Kearse. Despite Roberts, Peake and Burnett accounting for just three of the team's 17 receptions, head coach Todd Bowles expressed confidence in the depth of his receiving corps.
"I've seen them practice for a while," Bowles said. "But obviously the more we're nicked up, we have to have numbers as well produce. Certain guys are going to certain packages and have to get more reps. They have to come around faster than usual."
Kearse also was quiet Sunday, held without a catch after posting a season-high nine receptions for 94 yards in Week 6. Darnold said the Vikings did a good job scheming against the seventh-year wideout, who had a career-high 65 catches and 810 yards in 2017. Bowles agreed with the rookie signal caller, but said it was more than just the Vikings performance that limited Kearse.
"They did a good job of covering him," Bowles said. "Certain times we had to get out of the pocket when he was open and certain times we just couldn't get to him and then they did a good job doing some cover skills. Again, it was all-inclusive. It wasn't just him not getting open or them covering him. It was a little bit of everything."
Practice Squad Moves
The Jets filled out their 10-man practice squad, signing center Jon Toth and wide receiver J.J. Jones. The Broncos signed center Nico Falah off the Green & White's p-squad, which opened up a spot, in addition to the already vacant spot because of Burnett's activation on Saturday.
Toth went undrafted in 2017 and suffered a herniated disc in his back, which sidelined him for the season. He eventually signed to the Eagles' practice squad in December and the first-year player was a final cut in the summer. The 6'5", 307-pound Kentucky product started 48 games as the Wildcats anchor and earned first-team all-conference honors in 2016.
Jones signed with the Chargers as an undrafted free agent this year and earned a spot on their 53-man roster. The West Georgia product only caught one pass in the preseason, but he made his mark as a returner and took a punt 72 yards for the score. The 5'10", 173-pounder was clocked running his 40-yard dash at 4.2 seconds in the spring.
Jetcetera
Bowles said there was no update on running back Bilal Powell, who hurt his neck vs. the Vikings. Bowles also said safety Doug Middleton may have a tear in his pectoral muscle. Depending on the results, the Jets could add another safety and/or running back. Center Spencer Long got nicked up vs. the Vikings and Jonotthan Harrison had to finish the game. The fourth-year head coach had no further information and the team will have a full injury report on Wednesday.
Top Images from Week 7 in MetLife Stadium