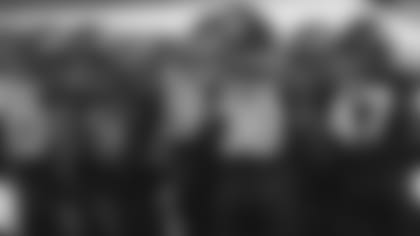 After Thursday night's 37-28 loss to the Broncos the Jets finished the first quarter of the NFL season winless in four games. The tale of the Green & White's struggles has been on both sides of the ball, but the defense has been especially up and down, and all around.
In Thursday's game, the Jets committed 11 penalties for 118 yards, with players on defense committing six personal fouls. Several of those came on critical third-down plays that gifted the Broncos a first down.
"We just have to know when to pull up," S Marcus Maye said. "It's a different game with the quarterback situation. We can't take him down to the ground, we can't land on top of him. We just have to be smart. Penalties after the whistle aren't necessary. We have to find a way to cut it out because it's hurting us."
After the Week 3 loss at Indianapolis, veteran DL Steve McLendon said that each player's effort and heart were not the issue. Instead, he said that it was about playing smart and playing together. It was the same story against Denver.
"It's tough," Maye said. "I know guys are playing hard and playing through the whistle, but we have to know when to pull up, we have to know situations when we're on the quarterback. We have to have awareness of what we're doing when we're out there."
He added: "We know how to play the game. We can't afford it; we have to be smart. We can't afford it because it puts us behind the sticks, puts us in bad situations as a defense, keeps the other team on the field. We have to stop the pass interference, the roughing the passer. Anything after the whistle is not necessary and not needed."
Despite some of the errors and penalties, there were some bright spots that defensive coordinator Gregg Williams can build on ahead of the Week 5 game against visiting Arizona. Seventh-year CB Pierre Desir had two interceptions — one a pick-six — and CB Brian Poole also had a pick. Although the defense struggled in the pass rush, it did have 6 TFL and 6 PDs. Maye said that is something to build on.
"I always have a positive mindset," he said. "So, when I get around the guys, I continue to do that and continue to try and lead them. We did some good things, but those few negative plays caught up to us at the end of the game. It's a tough situation we're in right now. A lot of guys are frustrated. But if it comes from me, it's all positive and we have to continue to work. We still have more games to play and every time we step out there it's a new opportunity for us."
When asked what it will take to turn around things, Maye said:
"Eleven guys doing their jobs, all four quarters and each play. One play at a time, one drive at a time, one quarter at a time. If we can find a way to do that throughout the whole game on all three phases I think we'll be alright."