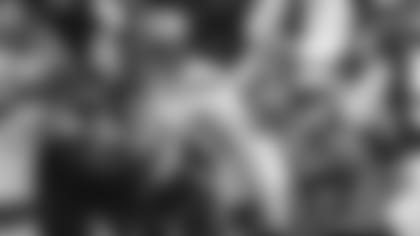 Jets fans thought they'd be feverishly working their green and white abacuses this year, counting up all the catches and touchdowns being racked up on passes from Sam Darnold to Chris Herndon.
Well, the tight ends are making the beads fly lately but it's not Herndon, who went to Injured Reserve after one game. Ryan Griffin notched the first 100-yard receiving game of his career and he was joined by Daniel Brown as TD catch recipients from Darnold in Sunday's 34-17 win at Washington.
"A lot of hard work and practice reps, which are building up now," Griffin said of his growing relationship with Darnold, which only started when Griffin was signed as a veteran free agent July 23. "I'm new here. I didn't get a bunch of first-team reps in camp. Now that we're getting more time out here every day practicing, we're just stacking good reps and good plays on top of each other. We're finding comfort in our connection."
"Right when Ryan got in here, I knew the kind of guy he was, first and foremost," Darnold said. "I knew he was going to work hard and do all the right things off the field. Then once he got on the field, I knew we had a special guy in this locker room and a special player."
Griff's even special when it comes to breaking out old Madden 2004 routines, like the one he said an old UConn teammate suggested to him. You saw it when Griff scored late in the first half and went to spike the ball but it "stuck" to his hand and he had to "pry it loose" with a raised foot.
"Yeah, everybody's asking me, 'Did you really have stickum on?' I was like, no, that'd be against the rules. They check us before we go out there," said Griffin, who was wearing a "Sticky Hands" T-shirt at today's news conference just sent to him by a fanwear manufacturer. "I'm glad I executed it that well that people are confused as to whether I had stickum on. That means it went according to plan."
What's maybe not following the plan is how well the Jets' tight ends room — Griffin, Brown and rookie Trevon Wesco — have been contributing in Herndon's absence. Consider these Green & White TE trivia gems:
Griffin with his five catches for 109 yards at Washington became the Jets' first 100-yard TE since Dustin Keller (6-101-TD vs. Jaguars in 2011) and had the most TE yardage since a Keller 2010 game (vs. Patriots, 7-115-1). As for road contests, the last TE to rack up more yards was Chris Baker (7-124-1) in the 2005 opener at Kansas City. In a road win? That would be Johnny Mitchell (11-120-0) at Minnesota in 1994.
Then there's the matter of touchdowns. The Jets already have two games this year (at Jacksonville, when Griffin had his two-TD game, and Washington) in which tight ends have caught two TD passes. The last time they had a TE two-fer was the 2013 Monday night win at Atlanta, with Jeff Cumberland and Kellen Winslow each grabbing a score on Geno Smith throws.
If Griffin can provide another 100-yard effort against the Raiders on Sunday, he'd be the first Jets tight end to rack up 100 yards in back-to-back games since Richard Caster vs. Miami (6-100-2) and San Diego (7-137-0) in Games 11-12 of the 1974 season. And one more touchdown catch will make Griffin the first Jets TE with five TDs in a season since Keller in '11.
Despite all these distinctions and possibilities, Griffin said he's not worried about getting back-to-back 100-yarders or that fifth TD grab ... to a point.
"I'd rather have zero catches in a win than 10 in a loss," he said. "But as long as we can help the team win, offensively I think it really helps if the tight ends are contributing. So I'd feel better about winning and contributing for sure."
And the Jets QB confirmed a little of what his new BTEFF (Best Tight End Friend Forever, of course) might be thinking for Sunday's MetLife Stadium battle against the Raiders.
"He's been awesome for us," Darnold said, "and he's looking to have another big game this weekend."
See Top Photos from the Practice Field Leading Up to the Matchup Against the Raiders