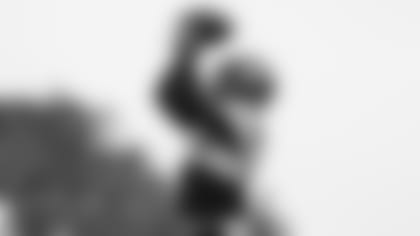 A chilly Thursday morning (23 degrees) in Florham Park, NJ, did not stop Ashtyn Davis of Santa Cruz, Calif., from hopping on a bicycle at his apartment and pedaling to the Jets' Atlantic Health Training Center.
"I was fine," the rookie safety said. "I got my snow jacket and gloves. It was only about a 10-minute ride."
However you slice it, Davis' daily bike ride is impressive for a dude from California, nearly as impressive as how the first-year player has stepped into the breach in the Jets' defense. Davis is expected to start his third game in the NFL when the Jets play the Los Angeles Chargers in SoFi Stadium in Inglewood, Calif., on Sunday afternoon. His baptism by fire, and subsequent starts, against the defending Super Bowl champion Kansas City Chiefs was a result of an injury to Bradley McDougald (shoulder).
"It was a good learning experience," Davis said of his first start. "I was in the stew, thrown in the fire, they did a lot of things, they teed us up. [At one point] there was a double move, I learned from and will be a lot better for it."
Against New England on Nov. 9, Davis had 4 solo tackles and 1 assist. He also had one pass deflection. On the season, he has 15 tackles, 10 of which have been solo stops. One of those tackles, an apparent second-quarter sack of Cam Newton on a first-and-10 play, was washed away by a roughing-the-passer call. He said he never had a chance to ask the officials what made the hit illegal; the league declined to sanction him any further after reviewing the play.
With the Jets thin at cornerback after Bless Austin got an MRI because of a neck injury, plus the release of Pierre Desir earlier in the week and Brian Poole out for the year with a shoulder injury, Head Coach Adam Gase was asked if he's considered moving Davis from safety to the corner.
"It's been brought up before of possibly throwing him out there," Gase said. "I think right now it's all hands on deck. I think we'll try to try to keep him [Davis] and Marcus [Maye] back there as much as we possibly can. A lot would have to happen for him to go play corner."
As he prepares to face the Chargers, Davis will come up against another Pac-12 alumnus in rookie QB Justin Herbert. Davis, with the University of California, said that he's faced Oregon and Herbert a couple of times in his collegiate career, and even snagged an interception against the Ducks last year.
"He's a big athletic guy who can make every throw on the field," Davis said. "I'm really excited to play him again. I picked him off last year, and asked him to throw me one again, we'll see."