Rookie wide receiver Charone Peake is starting to emerge at Jets Training Camp.
It began in practice when Peake made a sensational one-handed grab down the sideline on a pass from QB Bryce Petty. It's also carried over into game action. In the Jets' 17-13 win over the Jacksonville Jaguars on Thursday, Peake had a 17-yard touchdown catch from QB Geno Smith and he totaled four receptions for 45 yards in his first professional game. 
"I struggled a little at the beginning of camp, but I feel like I've started to pick it up," he said. "I've been playing more physical. At Clemson I was a physical blocker, but not physical with my routes. I need to be physical in all aspects of my game."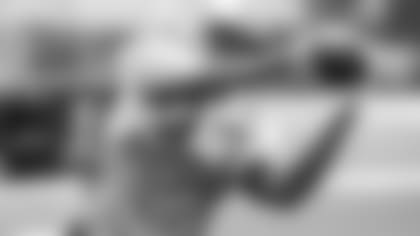 During Saturday's practice, Peake flashed during individuals drills. The wideout used his hands well at the line of scrimmage to create separation from defensive back Buster Skrine. But Skrine closed and deflected the ball only to have Peake haul in Geno Smith's pass for a touchdown. The 6'2'' 209-pounder is studying Jets six-time Pro Bowl WR Brandon Marshall on how to play more physical football.
"I love watching film of him. Every time he's running a route, anything he does, I'm writing it down, taking notes," Peake said.  "Main thing I've been learning from him is being physical throughout my routes."
The seventh-round draft pick, a co-captain at Clemson last season who totaled 50 receptions for 716 yards and five touchdowns, is doing everything he can to secure a roster spot.
"I'm very hungry to make it. It's a big goal of mine," he said. "I'm just going to put everything into it and see where the results take me."