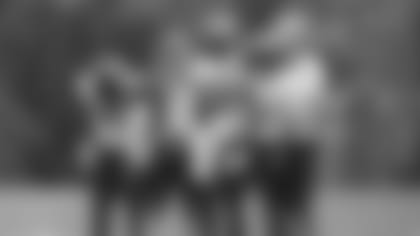 After a strong start to rookie minicamp, the Jets returned to the field Saturday with the hopes of further progress. First-year head coach Robert Saleh compared the timeline of rookie camp to a game week.
"A little install yesterday, a little install today and let's see how crisp they can operate tomorrow and how much they can pick up and how much they can learn in a three-day process to kind of simulate a game week," he said.
With a 10-person draft class along with 12 undrafted signees plus a handful of weekend tryout performers, Saleh has split the Jets into two groups. Alijah Vera-Tucker, the No. 14 overall selection in the Draft, and the rest of the linemen have worked on the field in the mornings while QB Zach Wilson, the No. 2 overall selection in the Draft, and the skill-position players have gone to the grass in the afternoon. (Unfortunately on Saturday, Wilson and the latter group were forced inside when downpours hit Florham Park.)
"We've had the bigs in the morning and the skill guys in the afternoon to kind of separate them," Saleh said. "There aren't enough guys to run 11-on-11 anyway. It gives everybody a chance to watch the bigs, the D-line, the O-line, the kicker (Craig Naggar, SMU) is in that group, to really get a good chance to look at them and get a lot of individual eyes on them as we go through this evaluation process. And then the same thing with the skill guys."
Wilson, whose every step will be scrutinized by onlookers, got off to a strong start in green and white.
"He did a really nice job," Saleh said. "The ball was in and out of his hands crisp, he was in rhythm, he was on time. The players were running the right routes and the ball was barely on the ground, so it was a very good first day for him. Now he has to stack it up and get better every day."
When asked about wideout Elijah Moore, a standout from Ole Miss taken with the No. 34 overall selection, Saleh called the wideout a "jitterbug" and then talked about the transition the electrifying playmaker and others are making.
"In college, you can get away with a lot of different things because you're just so much better than everybody," he said. "But in the NFL, you have to roll off the ball with urgency, you have to get in and out of your breaks with urgency. You can't waste time setting up your route because the D-line is humming. It's just all-encompassing… There is an efficiency with which they have to play that they didn't have to in college. That's going to be the learning curve."
The Jets will conclude their camp Sunday at noon and then all first-year players will be able to return for the start of Phase II of the voluntary offseason program on May 17th.
"You started the process," Saleh said. "The big thing is these young men are not only CEOs of their own body, but they're CEOs of their mind. The amount of work they put in and the amount of investment they put back in themselves is what reflect will on the football field. From this day forward, their body maintenance, how they work out, how they train, how they eat, how they study tape, it doesn't stop."
Details Are the Difference
Rookie minicamp can be like drinking water through a firehose for many players as they transition from college to the pros. The most notable difference after one practice for both Jets QB Zach Wilson and CB Michael Carter II has been the details.
"How much more detailed and, honestly complicated to a point, that's what makes it so special," Wilson said. "There are so many small things that change momentum and change a game. That's what separates everybody in this league. The best and the worst quarterbacks, whoever it is, it's just a small difference between those. It really shows the littlest details are what make the biggest difference."
Carter II, whom Saleh complimented on his ability to learn quickly in his first practice, added: "At this level, it's a lot more detailed in every aspect of how things operate within a defense. I think being able to pick up on those keys while moving full speed and trying to diagnose things is a lot more detailed. That repetition really helps. You see it on a playbook and in your mind, you take notes from the coaches and once you go out there and start repping it, that's where the biggest strides are made."
A Dream Come True
Jets LB Jamien Sherwood, who was one of six Jets draft picks to sign his contract, feels both at home and in new territory in Florham Park. As for the former, his favorite color is green and he's made this transition in lockstep with his college teammate Jordyn Peters, who signed with the team as an undrafted free agent.
"Just walking out there on the field in a Jets helmet and jersey felt so surreal, it's something you dream of," Sherwood said. "I used to play with the Jets on Madden and now I'm playing for the Jets. It's just crazy to me, but I'm blessed to be in this position. I wouldn't have it any other way. I'm just thankful for this opportunity."
As for new territory, it has nothing to do with Sherwood moving from safety (although mostly in the box) to linebacker. It has everything to do with the northeast climate.
"I got here on Wednesday," said Sherwood, who is from Jensen Beach, Fl. "It's just different, it's about to be summertime and the pilot said it's 57 degrees here. That just caught me by surprise, but it didn't seem to be too cold honestly."
He later added: "They told me it gets cold, so I have to layer up and do whatever I have to do. So, I'm ready for it."
Maye Dialogue
In March, veteran safety Marcus Maye signed his one-year tender after the Jets had applied the franchise tag on him.
"We talked before OTAs and then before the offseason program started," Saleh said of Maye. "We had a really nice conversation and obviously him and his agent are working with Joe on trying to get his deal done and hopefully that happens soon."
The Jets and Maye have until mid-July to agree on a long-term contract extension or Maye will play the 2021 season under the one-year tender.
"I think these kids have earned the right to ask for whatever they can especially when they do things the right way like he has," Saleh said. "Joe and his staff are working relentlessly to get something done."