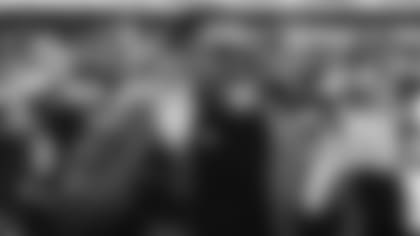 Ron Middleton owns a rare distinction -- he's undefeated as a head coach, albeit interim, in the NFL. And it's likely to remain that way for the foreseeable future.
On Sunday, Middleton showed the moxie of a riverboat gambler and the savvy of a football lifer as the Jets (4-11), with head coach Robert Saleh sequestered because of a positive Covid test, played a spirited and ultimately victorious game, 26-21, against the rookie No. 1 draft pick Trevor Lawrence and the Jacksonville Jaguars (2-13) at MetLife Stadium.
"It was like a duck on the water," said Middleton, 56, who sported a curly salt-and-pepper beard and sunglasses during the game. "Everything looks smooth, but under the water there's a lot of pedaling going on. To me, that's the biggest thing I've gotten out of it, an appreciation for the guys behind the scenes who make things run as smooth as they do."
Middleton, in conjunction with the Jets' assistant coaches, played the game to win, taking calculated chances that ultimately paid off. The Green & White converted 3-of-5 attempts on fourth down, none more important than Zach Wilson's pass to OL Conor McDermott on fourth-and-1 from the Jaguars' 1-yard line, which gave the Jets a 23-15 lead with a bit more than 6 minutes left in the game.
"We were going to be aggressive, but we weren't going to be foolish," Middleton said. "Every time we went for it on fourth down it was discussed. Our game analysis guy, Matt Burke, was given information and all the decisions were based on that information. The staff was going to be aggressive, but again, not foolish."
The TD pass from Wilson (14 of 22, 102 yards passing; plus 4 runs for 91 yards and a TD on an amazing, franchise-record 52-yard scramble) to McDermott, who had reported as an eligible receiver on the left edge of the offensive line, was sublime.
"It was a crossing play that has been in the game plan for four or five weeks now," Middleton said. "We had been running it to Dan Feeney [who stepped in for rookie LG Alijah Vera-Tucker] but this week McDermott was that guy. He'd been saying all along that he's an ex-tight end. He asked what kind of release he should use, and I said just get out there and swim, get open or we're not getting you the ball. We ran this play twice this week, Zach threw it both times, but there was no pressure. He [McDermott] looked very natural catching the ball. He made a hell of a catch today. I'm so happy for him."
McDermott, a reserve offensive lineman, said after the game that he had played tight end in middle and high school (at the Ensworth School in Nashville, TN), but could not remember the last time he hauled in a TD pass. For his part, Wilson called the pass and catch "probably the highlight of my entire career, so far."
Middleton played tight end for five NFL teams from 1986-95 and began his coaching journey in 1997 as the tight ends coach at Troy. The assistant coaching careers of Middleton and Saleh converged, coincidentally, with the Jaguars from 2014-16. Saleh moved to San Francisco as the 49ers' defensive coordinator from 2017-20 while Middleton stayed in Florida to oversee the Jaguars' tight ends. When Saleh landed with the Jets, Middleton was also available.
In the Jets' jubilant locker room, which included a Zoom call pop-in by Saleh, C.J. Mosley said that the players rewarded Middleton with one of the game balls.
"It was awesome that he [Saleh] popped up on the screen from his room," Mosley said. "He was happy and excited. It was just fun to still see his passion for his guys. We're all in this position because of him and we believe in him. We've got two more to go."
After two fourth-down conversions on the Jets' final drive of the first half, Wilson threw incomplete to Denzel Mims on a fourth-and-goal from the Jacksonville 2. Then past the midway point in the third quarter, Middleton called for a fake field goal that was thwarted when P Braden Mann was stopped a yard shy of a first down at the Jacksonville 3-yard line.
After spending the past eight seasons as the Jaguars' tight end coach, Middleton took an aggressive approach against his former team. The Jets made it a two-score game early in the fourth quarter on McDermott's first career TD in his 34th career game. (The Jaguars, too, rolled the dice when on the fourth play from scrimmage, they got a first down as Andrew Wingard took a direct snap and got 4 yards on a fourth-and-2. Jacksonville went on to kick a field goal.)
"I've done seminars and symposiums getting ready to be a head coach," Middleton said. "The biggest thing I've taken is the people around me. The PR guys prepping me for these interviews, the assistant coach with notes, having them in the right place at the right time."
He added: "It's a testament to the players we have. Their professionalism and determination to make this thing work. And I think it showed in the game play after play after play. I really appreciate that."
"I thought it was a truly, truly a team effort," Middleton said. "It was special teams [Braxton Berrios' 102-yard KO return], offense [which racked up a season-high 273 rushing yards], and defense. Everybody stepped up. It was the culmination of a difficult week. Being professionals, going about your job with all adversity [injuries and a Covid surge]. It was an awesome win. An awesome win."
See the Top Images from the Locker Room and Field Following the 26-21 Win at MetLife Stadium