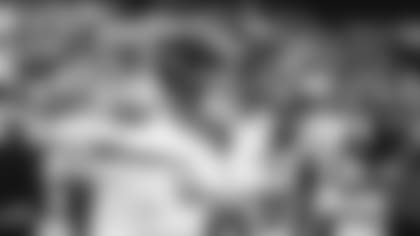 Jets head coach Robert Saleh confirmed "the word on the street" late Wednesday morning: Rookie Zach Wilson, who sat out the past four games with a knee injury suffered in Game 6 at New England, will be the Jets' starting quarterback when the Green & White travel to Houston this weekend to play the Texans at NRG Stadium on Sunday.
"It's like we said, when Zach got fully healthy, we'd make a decision that most likely to be he's back in there," Saleh told reporters before today's practice. "Once we got clearance that he was good physically, good mentally and ready to roll, we were good with the decision."
So is Wilson, who expressed how happy he was after practice to feel ready to lead his team on the field once again.
"It's awesome. I'm excited with just that rush you get on the field, just happy to be back with the guys," Wilson said, adding of his knee. "I feel 100 percent confident in my ability to go out there and play football the way I play football. I told the coaches I feel like that doesn't have to be a focus going forward."
The decision to start Wilson for the first time in five games coincides with Saleh confirming that backup QBs Joe Flacco, who started last week against Miami, and Mike White, who got the three starts after Wilson was injured, are both in the NFL's COVID protocol.
"Right now, we're looking for Josh Johnson to be the backup," the coach said. "You get unlimited COVID callups when things like that happen. We're not closing the door on Joe because there's still a chance he can travel and be there [at the game on Sunday." Saleh confirmed that White will sit out the Texans game.
Saleh said he had no concerns that Wilson will pick up his progress where he left off when he twisted his knee in the middle of a second-quarter drive on a QB hit from the Patriots' Matt Judon.
"We felt like Zach was getting better throughout the first half of the year," he said. "The time it took for him getting comfortable in the game was getting quicker. ... He's a talented young man who just has to step up, get better and take it one play at a time."
Wilson agreed that he was getting more comfortable quicker in games before his hiatus.
"Not only just at the beginnings of games, but just in general, my mindset," he said. "Going into the New England game, coming out and ripping it from the beginning. I have a feel of what I was drafted to do to be able to make plays."
In his first six games Wilson completed 104 of 181 passes for 1,168 yards, four touchdowns and nine interceptions for a 63.5 passer rating. His lone win as the starter came in the Game 4 home overtime win over Tennessee.
As Saleh noted, the Jets' offense has been improving even as they've had to play their four quarterbacks for some stretches over the past four games. The passing offense has risen to ninth in the NFL in net yards/game this week and rookies such as WR Elijah Moore and RB Michael Carter (who will miss the Texans game with an ankle sprain) have raised their profiles.
The coach feels confident Wilson can take advantage of his wideouts and stable of backs without Carter behind an improving line.
"Obviously, we'll see," Saleh said about whether watching the Jets perform for the past month will help him raise his game beginning Sunday. "But anytime you have the chance to watch something through the lens of another player, teammate, I think it's beneficial. How Zach is able to interpret it all, he will only be able to answer, but I think it's beneficial."
Wilson was asked if, after his month of observations, he'll be able to immerse himself in what Saleh called "boring football" that NFL quarterbacks sometimes have to play to enjoy success.
"In my mind, it's not boring football, it's how can I put my team in the best position every single play? What's the best decision for my team?" Wilson said. "Stats don't matter. It's that mindset of those big plays need to be there when they're giving us those big plays. My mindset has to be to make them pay when they give us that play. I'm not thinking boring football. In my mind, it's just playing the right way, honestly."
One of the running backs who will be in action behind and alongside Wilson at Houston did some woofing about his QB during his own media availability Wednesday.
"Zach is like that pup that's grown into his bark," Ty Johnson said. "He's that guy. He's a dog."
While Wilson rehabbed his knee and got intensive early pregame workouts before the last two home games, against Buffalo and Miami, Mike White stepped in to start in the win over Cincinnati, the Thursday night loss at Indianapolis, and the loss to Buffalo at MetLife Stadium. Last week Saleh's call was to start 14-year veteran Joe Flacco over White in the 24-17 home loss to Miami.
This will mark the eighth time in franchise history that the Jets played three consecutive games in the same season with three different starting QBs. The first time occurred with the New York Titans in 1962. The most recent came in 2019 with Sam Darnold, Trevor Siemian and Luke Falk starting the first three games that year.