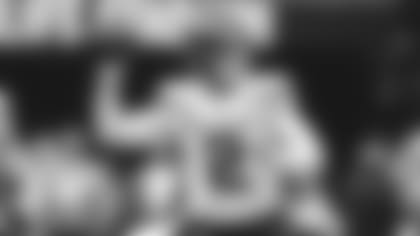 Jets head coach Robert Saleh said that a stomach bug kept him from traveling to Indianapolis where GM Joe Douglas and other team officials held a second meeting with free-agent quarterback Derek Carr on Wednesday.
Saleh recovered in time to meet virtually Thursday morning with the news media for the first time since he hired offensive coordinator Nathaniel Hackett in late January. Obviously, the pursuit of Carr was Topic #1, though Saleh (like Douglas on Tuesday) addressed the future of quarterback Zach Wilson.
Saleh was tossed a question about what it would mean for the Jets and Wilson two years down the road if the team signed a QB who is in his early 30s. Wilson has two years left on the rookie contract he signed after the Jets drafted him with the No. 2 overall pick in the 2020 NFL Draft.
"I don't have it for two years from now," Saleh said. "I don't even know what that means.
"Our focus is to help him get better as fast as he can."
Douglas, speaking in Indianapolis earlier this week, said: "Obviously, the first two years haven't played out the way that anybody's hoped, but we still feel like there's a very high ceiling with Zach. And in my time in the league, I found that when players love this game, and when players work their tails off, they usually hit their ceiling and so I feel like Zach definitely has those traits, so I still feel strongly that Zach's going to be able to hit his ceiling."
The 2023 NFL season is clearly important to the Jets and Saleh, who will be working his third season as the Jets' HC. After a 4-13 rookie season, Saleh led the Green & White to a three-game improvement (7-10), which included a fast start followed by six straight losses to end the season. Wilson, who was injured in the preseason, returned and showed flashes in leading wins over Pittsburgh, Miami, Green Bay and Buffalo, but was benched after the Week 11 loss at New England.
The lack of consistency and delayed development led Douglas and Saleh to announce that the team would seek a veteran quarterback, either in free agency or via trade. That could leave Wilson as a backup for the foreseeable future.
"You have to stay in the moment and try to do everything we can to help everyone get better, be the best version of themselves they can be," Saleh said. "So whether we bring in a guy who's in his early 30's and you know he's going to be here for a while, the focus is to just help him [Wilson] get better, as best as he can, and if his best gets to be showcased here as a New York Jet, awesome. If not, it's still awesome because all we want is what's best for him and his development, no different than any other player on our roster.
"That's our job to make sure that we're doing everything we can to help them find ways to reach their max potential, as coaches, and then Joe and his staff, their job is to continue to push the envelope and finding players that can continue to maintain that standard."
When the league year commences on March 15th, the Jets could have two quarterbacks under contract -- Wilson and Chris Streveler. They mainly relied on three last season in Wilson, Joe Flacco and Mike White. Flacco and White can be free agents later this month.
"I feel like I probably should be talking about him [White] more," Saleh said. "Mike deserves every bit to be talked about, he should be on this roster also. You know we carried three last year but, again, he's going through his process and it's just something that obviously we're keeping close tabs on."
Leaving the door open, Saleh said he'd like to again have three QBs available, even three on the 53-man game-day roster if the numbers work.
"If you can hold it for sure, like quarterbacks are gold," Saleh said. "If you have three guys that you have full faith in, then yeah absolutely, you hold them. But you don't want to hold three quarterbacks just to hold three quarterbacks, but I said it last year, I thought we had three really good quarterbacks between Flacco, Zach and Mike and if we're presented with that same opportunity again, obviously you'd love to keep it that way."