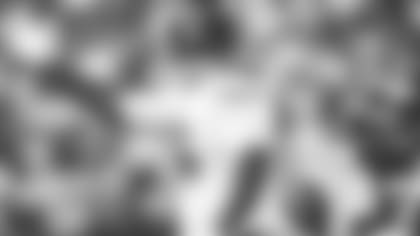 The Jets defensive starters needed only to play 7 snaps Saturday to show HC Robert Saleh they are prepared for the regular season. Led by last season's AP Defensive Rookie of the Year Sauce Gardner, the Jets starters allowed 1 first down over two series and smothered the Giants reserves in a 32-24 victory.
"I just saw the first couple series," Saleh said. "And they are ready."
The Green & White were the road team for their annual preseason finale against their cross-town rivals but looked right at home. All-Pros Quinnen Williams, C.J. Mosley and Gardner made their preseason debuts and helped the defensive starters limit Tyrod Taylor and company to 4 yards.
"Those first two series, I felt it," Mosley said. "Our defense was connected out there. We go as our d-line goes. Once we stop the run game, we can let our d-line pin their ears back and rush and we can be really dangerous. We got corners out there locking things down. Safeties are over top and obviously the linebackers are able to play the run and pass. So, I feel like we have a full defense."
On the Giants' first possession, the Jets set up shop in the opposition backfield. On the first snap, Jermaine Johnson blew past right tackle Matt Peart and drew a holding call. The next play, Quinnen Williams broke through the interior of the Giants line and forced QB Tyrod Taylor to roll out and eventually run out of bounds.
However, on the pressure by Williams, Johnson tripped up Taylor late which resulted in a penalty.
After the Giants got a first down via the late hit, Taylor tossed a screen pass to TE Lawrence Cager who was upended by nickel CB Michael Carter II for a 1-yard loss. On third down, Taylor threw incomplete to WR Sterling Shepard who was blanketed by Gardner.
"I thought they were trying to flood the zone and it kind of opened up," Carter II said about the tackle for loss. "And I had my eyes back and I could see the screen. So, I just went and shot it and tried to do what I could."
The second and final possession for the starters ended in a 3-and-out. DL Solomon Thomas wrapped up RB Jashaun Corbin for a 4-yard loss on the first play. Taylor then tried a deep pass toward WR Jaylin Hyatt, and Gardner went stride-for-stride with the rookie before batting the ball away.
To close the night for the Jets starters, on third down, Johnson beat Peart again, but this time got to Taylor for the sack and a 5-yard loss.
"The energy was there," Carter II said. "We treated it like a regular season game, and we play like we practice. We trusted the guy next to us. We were able to communicate and when you do that, you can play fast."
Mosley added: "Honestly, it felt really great. The ones haven't been able to put the pads on, so I actually got a little bit of gameday jitters. As soon as we got out on the field and got a warmup in, it felt like we were back at home."
After a quick outing, most of the Jets starters got comfortable on the sidelines. However, the big plays didn't stop.
Late in the first quarter on a pass from QB Tommy DeVito intended for Giants WR David Sills, CB Brandin Echols dove in front of the receiver and returned it 67-yards for a touchdown to give the Jets a 14-0 lead. The Giants next chance on offense, DE Bryce Huff flashed his patented quick get-off and beat Peart for a sack and a 4-yard loss.
In the preseason victory, the Green & White defense finished with 5 sacks, 10 tackles for loss, 3 pass defenses and 1 forced fumble.
See the best photos from the 2023 preseason finale against the Giants.