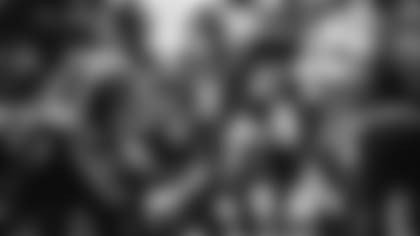 The Jets got the fast start they have craved all season, but after scoring touchdowns on their first three possessions, the Eagles' defense (and some ill-timed "self-inflicted wounds") stymied the Green & White while the Eagles' offense scored to close out the first half, then held the ball for 13:50 in the third quarter en route to a 33-18 victory at MetLife Stadium on Sunday.
"Our offense was rolling, we scored three touchdowns and Zach, the receivers and run game were all working well," head coach Robert Saleh said. "We get a stop early [in the second half] and I felt like our offense would have gotten some points."
Wilson and the Jets (3-9) were propelled out of the gate when Braxton Berrios returned the opening kickoff 79 yards to the Eagles' 21-yard line. Coming into the game, the rookie QB from BYU had not led a first-quarter scoring drive, but five plays after the kickoff return, Wilson zipped a TD pass to fellow rookie Elijah Moore (12 targets, 6 catches for 77 yards) from 3 yards out. The opener was the first of three straight touchdown drives by the Jets in the first half.
"We started out great, Braxton's return put us in great field position," Wilson said. "We had some good momentum, good execution up front and we did a good job running hard. It was the momentum we needed."
After the Jets scored, Philadelphia answered with its own TD drive and the race was on. The Jets then drove 68 yards in 11 plays, consuming 6:07 with Wilson scoring his second TD in two games, on a 1-yard sneak. Wilson was 7-of-8 passing in the first quarter for 50 yards
"It's about getting in good situations," Wilson said. "We don't need to put a huge emphasis on starting better. What I need to do is be the best I can be every play. That was the mindset all day today, take what defense gives me and be smart with the ball."
As the Eagles went blow for blow with the Green & White, again Wilson answered. He took the Jets 75 yards in 9 plays for a TD. After missing Moore in the back of the end zone on third down from the Eagles' 1, Saleh elected to go for it on fourth down. Wilson connected with TE Ryan Griffin for his second TD pass of the game. Wilson hit on 12-of-14 passes for 108 yards and 2 TDs in the first half. (The Jets, however, missed all three points attempts after TDs -- two kicks by Alex Kessman (who was signed on Saturday) and a 2-point pass from Wilson to Jamison Crowder in the flat that fell incomplete.)
Even though Wilson missed Moore in the back of the end zone, and later could not connect when Moore was open on a deep pass [his pass on the next play was intercepted], it is clear that two of the Jets' most important young players are forging a promising chemistry -- particularly since Wilson returned after missing four games with a PCL strain.
"It's crazy, I feel like he's a great player already," Wilson said. "I'm not saying I'm just looking where E. Moore is. It's that he's doing his role, taking advantage of his opportunity. I feel like our connection is going to even get better. Thing is, I have to feel when he's coming off his route. That play on the left [in the fourth quarter], I have to connect on that. With time, we're going to fix it."
Philadelphia (6-7) dominated possession from late in the second quarter through the third quarter, and the balance of the game, but still only scored 9 points. The game came down to Philly's domination of time of possession in the third quarter: 13:50 to a 1:10 for the Jets. The Eagles ran 24 plays in the quarter, but were held to 3 points on a lone Jake Elliott field goal.
"They had the ball to finish the first half, then go on an eight-minute drive," Saleh said. "They have it again for however many minutes. It's almost over an hour of real time. Our offense was on the sideline, then it's on the field a quick minute. Does it take away our momentum? It does."
Saleh added of Wilson: "His footwork was awesome, his eyes, his tempo, everything was within the scheme. He was not overanalyzing things and I thought this was by far his best game. He was working progressions and playing in the scheme. I wish we could have kept going in the second half. I thought he was about to have an explosive game."
Perhaps Wilson's most impressive pass of the day came on a second-and-12 play when he rolled to his right and zipped a 15-yard completion to Moore to the Philly 37.
"I feel like we go through everything together," Wilson said. "This hurts. We have to go back and look for the growth in this and have the experience as a team. We have five games left, we have each other's back and will bring it each and every week."
See Best Images from the Game at MetLife Stadium