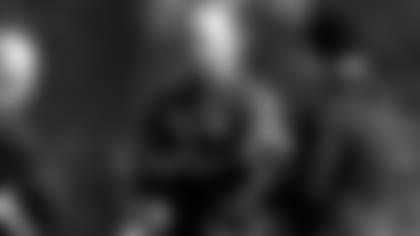 During his midweek news conference on Wednesday, Jets head coach Robert Saleh said he would like nothing more than continuity on the offensive line. For now, however, he will have to be content with starting the fifth different combination when his team hosts the Los Angeles Chargers on Monday night.
"We like where everyone's at, we're trying to avoid making moves," Saleh said, referring to the possible return of LT Duane Brown, which could mean an another move for Mekhi Becton. "Continuity is already lacking. We're trying to make as few moves as possible. Nothing is off the table. We'll play our best five."
Brown, who has been on injured reserve dealing with shoulder/hip injuries, is expected to return to training and could be available to face the Chargers. A decision has yet to be made. He has spent his long career at left tackle, where he started this season, with Becton switched to the right side.
"I think Mehki can be good, right, left, guard ... I mean, he's that type of talent," Saleh said. "Mekhi's a freakish athlete, and I think as he continues to evolve his career, you'd love for him to be a left tackle. But where we are right now, we have to make sure the best five are on the field somehow, someway protect the quarterback and give him some time."
Though the situation could be characterized as "fluid," Saleh, offensive coordinator Nathaniel Hackett and O-line coach Keith Carter are again tasked with cobbling together a line that will have to deal with the Chargers elite edge rushers in Joey Bosa and Khalil Mack. The Jets ended last Sunday's thrilling OT win over the Giants with Xavier Newman at center, Billy Turner at right guard and Max Mitchell at right tackle. C Connor McGovern (knee) and OL Wes Schweitzer (calf) left the Giants game and are now on injured reserve.
"It's very frustrating," Sale said. "Everything starts up front. Want to be creative and do things, but the protection has to hold up. We love the guys in the room, it's about playing together and next to one another and communicating. If they can get some continuity together, that would be good."
Although the Jets did not make a move before the NFL's trading deadline on Tuesday afternoon, GM Joe Douglas made several additions to bolster the offensive line. Perhaps the most interesting was the addition of the former Pro Bowl OL Rodger Saffold to the practice squad.
"We'll see where he's at," Saleh said. "Having him here is awesome, a veteran Pro Bowler. We'll see where he's at from a conditioning standpoint."
The O-line could get a boost if rookie Joe Tippmann, drafted as a center out of Wisconsin who has seen time at right guard, can play on Monday night after sustaining a calf injury against the Eagles and then missing the Giants game.
"Newman did a nice job, he stepped in and battled his butt off," Saleh said about the O-lineman who was elevated from the practice squad last Saturday, entered the game at RG when McGovern was hurt and then shifted to center when Schweitzer went down. "I thought he executed at the end of the game to get the ball clocked. That was outstanding."
The team also signed OL Chris Glaser to the active roster, DL Bruce Hector to the practice squad and released DL Elerson Smith from the P-squad.
Before the trading deadline, two Jets veterans -- RB Dalvin Cook and DL Carl Lawson -- went public with their desire for more playing time.
"Those two are tremendous professionals and with the way the NFL is working more and more they're going to be needed," Saleh said. "Dalvin has a role and Carl is awesome on and off the field. I'm not worried about them. I know where their hearts are, they work their tails off and are great teammates. They expect more from themselves and I know they can operate at a high level.
"I trust Joe to turn over every stone and he does. It takes two to tango. He tried hard to find spots where we can improve the roster. There were some options, but I feel what we did was what's best for the team. I love the guys we have. We're always trying to improve, but if there's nothing out there you just don't do it."