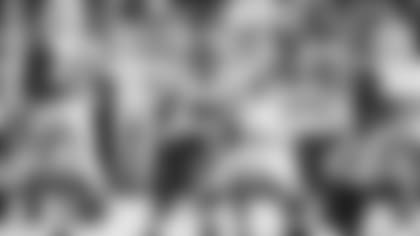 Jets rookie LB Jamien Sherwood is set to take on a starting role as LB Jarrad Davis, who sustained an ankle injury in the team's 23-14 win over the Packers at Lambeau Field, is expected to be out until the team is off in Week 6 of the regular season.
"We really like our linebacker group," head coach Robert Saleh said. "We've got a combination of youth and experience. Sherwood has been doing a really nice job. We're expecting him to slide in and pick up where Jarrad left off. He's been having a really nice camp and it's an opportunity for him to step in and take on a bigger role. With regards to that linebacker group, we're really excited about that unit."
Sherwood (6-1, 216), a fifth-round pick, played safety at Auburn and is transitioning to linebacker with the Jets. He had 2 tackles, 1 tackle for loss and 1 fumble recovery against the Packers on 28 snaps, after 3 tackles on 22 snaps against the Giants.
"Sherwood has a tremendous mindset to him," Saleh said. "He's extremely smart, he's got great command of the playbook already, he's got respect of his peers, he is an unbelievable communicator. He doesn't look like Fred [Warner], but he's sitting there right around 220-225 [pounds], he's got tremendous length, tremendous instincts and he's got a great feel for the game. Again, for him, there's going to be some hiccups along the way but, we feel with reps he's only going to get better."
Sherwood reminds Saleh of Warner, the 49ers All-Pro LB who played under Saleh the last three seasons. Warner, a third-round pick out of BYU in 2018, had 124 tackles, 6 pass defenses, 1 forced fumble, 1 fumble recovery and 2 QB hits as a rookie.
"Sherwood is exactly what we thought," Saleh said. "When we drafted him -- I want to make sure I'm saying this properly -- I'm not comparing him to Fred yet, he's got a long way to go. Fred Warner played nickel in college and was maybe 220-225 his rookie year. Threw him in there at Mike linebacker, started Day 1 and he took off."
Jets defensive coordinator Jeff Ulbrich added Sherwood "has a different level of communication than maybe I've ever seen in a rookie."
Updates on Elijah & Alijah
Two Jets rookies have missed the first two preseason contests and remain on the mend. OL Alijah Vera-Tucker, the No. 14 overall selection in April's NFL Draft, is dealing with a pec injury, while Elijah Moore, the No. 34 overall pick, sustained a quad injury two weeks ago. Vera-Tucker might be closer to reps than the receiver was deemed more "day to day."
Saleh said: "My concern is just the lack of reps, but that goes for everybody. If Marcus Maye was missing reps, I'd be concerned for him too because of how much we value reps and execution. But the good thing about those two is, you see them in walk-through. AVT's been getting a lot of walk-through reps and Elijah Moore is over there just constantly absorbing as much information as he can. So, a lot of confidence in those two and be able to step in and, at least, know what they're doing. And there might be a little bit of rustiness with regards to timing and all that, but those are things that we feel that they'll be able to adjust to pretty quickly."
No Apologies Necessary
In two preseason contests, Wilson has completed 15-of-20 passes (75%) for 191 yards with 2 TDs and a QB rating off 137.7. In six drives combined against the Giants and the Packers, he has guided the offense to 20 points. And while the production has been there, he has faced backups to date.
"I'm an optimist," Saleh said. "You know if it was the other way around and he was struggling, he'd be getting torched. The fact that he's going out there and absolutely dissecting these defenses, I think is a testament to him."
Always positive and authentic, Saleh used a golf analogy to drive the point home on Wilson.
"You still got to go out there and do it," he said. "No different than going out on the golf course. You might be playing an easy course, but you still have to go out there and hit shots."
Jetcetera
After losing DE Carl Lawson to a season-ending Achilles tendon injury, ESPN's Adam Schefter reported on Sunday that the club is exploring a trade to acquire a pass rusher. When asked about it on Monday, head coach Robert Saleh said: "My head is so deep into our tape and just focusing on these guys right now. I know it's not the answer you want, but there's always going to be personnel discussions with Joe [Douglas] and myself. As far as the seriousness with all of that, I'm really just focused on the guys that are here right now." …
In addition to Davis, T Conor McDermott (knee) was also carted off the field against the Packers. "McDermott, he's working through, it's going to be through the season with his injury. He's looking at some more evaluations to see which direction he wants to go. DL Ronnie Blair exited the contest with a hamstring injury and is scheduled to get additional tests. … Backup QB Mike White, who has hit on 71.4% of this throws in the two summer games, is day to day and getting further evaluations on his ribs. …
Rookie signal-caller Zach Wilson will start his third consecutive preseason contest, against the Eagles on Friday night. All healthy first-year players will get action Friday after Tuesday and Wednesday joint sessions with the Eagles. When asked how long Wilson and the starters would play, Saleh said: "I can tell you the rookies are going to play. How much? I don't know. And how much are we going to get the vets out there? I don't know. But again, we're going to talk about that as the week goes on, depending on how these practices go, and talk with the players and talk with the coordinators and see which direction we want to go to." …
Our final word goes to Saleh with some very good news on the injury front regarding DT Quinnen Williams: "We're going to up him this week. We had it maxed out between 10 and 12 reps per practice last week, we're going to try to up that to 20 this week as we ramp him up and continue to work through them. And he looked exactly like we thought, he was a little rusty. But he's a big powerful man and he's excited to continue to work through it, and I know Aaron [Whitecotton], our D-line coach, is really happy that he's around. Now we just have to hone in on our technique and hone in on the small details that's going to make him special."