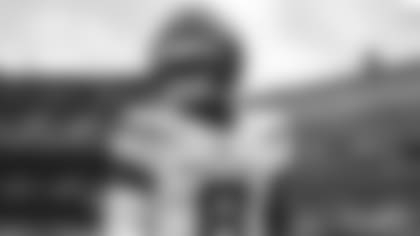 One day after Jets second-year wideout Elijah Moore was excused from practice and reportedly requested a trade, HC Robert Saleh announced that Moore would not play Sunday at Denver against the Broncos.
"My view, whether we agree or not, it doesn't matter," Saleh said. "Just to ask him to play a football game with where he is from a mental standpoint would not be fair to him, in my opinion. That's strictly my decision."
Saleh said that trading Moore, who has 16 receptions and 203 receiving yards this season, is not an option.
"We all love Elijah," he said. "We all understand the business aspect of it. We all know where his heart is, the character that we drafted. Elijah is a great kid. He is. He's out there, he works his tail off, he does everything that's asked of him. Whether or not people can get out of whack, that's probably more of a conversation for him, but he is a very high-character individual. I get this could look bad, but this is part of our business. I will stand by that young man every day of the week just knowing exactly where he is, where he needs to get and where he's going to go.
"This is one of those cases where, in my opinion, he's going to be a great football player in this league for a long time. And it's just a matter of being able to stack together a couple good days and let the ball roll from there."
According to Saleh, Moore reached a "boiling point" on Thursday and expressed his displeasure, which is when he was excused from practice. Moore returned to the facility on Friday, but will not participate in practice or meetings. He'll work out with the strength and performance staff Friday and Saturday before going through a game-equivalent workout Sunday. He will rejoin team activities Monday.
"He wants to contribute," Saleh said. "He's a competitive kid, he's a competitive man. He wants to feel like he can do more within the offense to help up cross the goal line and, to me, that's admirable. You want your guys to have that confidence in themselves where they know they can do more for the offense. We are in a really cool situation where Corey Davis deserves the ball, Garrett Wilson deserves the ball, Breece Hall deserves the ball. So does Braxton Berrios, Michael Carter, the two tight ends and so does Elijah. …
"It's just a matter of continuing to work and trust the direction that we're going. We're young at the skill positions on offense and it's a really good chance to grow together. From his perspective, I think he's competitive. He wants more and that doesn't make him selfish."
The NFL trade deadline is Nov. 1 at 4 p.m. ET. Saleh was adamant the Jets would not deal the 2021 second-round pick, whose 538 yards and 5 TDs led the team last season, despite his request.
With Moore out Sunday at Denver, Denzel Mims will be active for the first time this season.
"He's been putting in his work, he's been running the scout team," Saleh said of Mims. "He's been getting extra reps with the team, so he's prepared to play. He's prepared himself to play and he's going to get an opportunity."