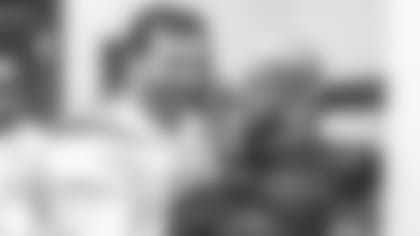 Of all the things Robert Saleh addressed in the seven-plus minutes of his postgame news conference, one quote rang true for what the Jets had done to pull out their rare and wonderful 31-30 win at Cleveland not much more than seven minutes before he took the podium.
"That whole fourth quarter, you have an opportunity to seize the game, and then a couple of penalties here, a couple of dropped passes there," Saleh said. "I'm proud of them. Just the resolve to regroup when we got that opportunity to take advantage of it and make something spectacular happen."
Spectacular is one word for what happened. The Jets' comeback from 13 points down with 1:55 to go when the Browns opened their 30-17 lead was tied for the fourth-largest come-from-behind victory in franchise history and the largest since the Monday Night Miracle win over Miami in 2000. ESPN further refined the comeback into oh-wow territory, stating that from Week 9 of 2001 through opening week 2022, teams that trailed by 13 or more points in the final two minutes had a depressing record of no wins and 2,229 losses.
The Jets ended that woeful stretch with one big play and unlikely development after another down the stretch, and it left the locker room bouncing and hollering like a winner of something more than just the second game of a new season.
"You can hear it," Saleh said of the uproar, still going on as he spoke to reporters. "We're off the schneid. I love the way this feels. You've got to find a way to stack 'em up. There's a lot of stuff we've got to clean up. But I'm just proud of the guys because we didn't quit. And that's probably the biggest thing I'll take away from it."
Let's forget the first three quarters, when the Jets came from behind to tie the score with the Browns three times. The first was on rookie WR Garrett Wilson's first pro touchdown catch, from QB Joe Flacco, the second was on rookie RB Breece Hall's first pro TD, also on a Flacco pass. And the third came on Greg Zuerlein's 57-yard field goal that equaled the franchise record for longest field goal (established by Chandler Catanzaro in 2017 in, eerily enough, in the same FirstEnergy Stadium the Jets were playing in Sunday.
The series of amazing events started, interestingly enough, with the Browns' final TD, Nick Chubb's third rushing score of the game to open a 30-17 lead. He went 12 yards around left end and over the goal line with 1:55 left.
"They scored, and the echo in the headset was, 'They gave us a chance,' " Saleh recalled. "I've never been so happy for a missed tackle in my life. That was our only chance."
It also didn't hurt that rookie K Cade York missed the extra point. But first things first. The Jets needed something like a blown coverage to move things along. And from the Browns they got ... a blown coverage that allowed Flacco to drop a ball into Corey Davis' breadbasket for a non-coverage 66-yard TD.
"We stepped up and took advantage of a busted coverage on Corey's play," Saleh said, "and that left us enough time to be able to get the onside and win."
The onside. Hasn't there been much impassioned talk about how recent rules changes have made onside kicks virtually unrecoverable by the kicking team? Yes there has. Apparently, Braden Mann and the Jets' coverage unit hadn't read that memo. Mann laid the ball flat on the tie, started to head right, then kicked a spinner left. After a scramble, Justin Hardee recovered for the Jets around midfield.
That's when Saleh said he felt a sea change in the game's momentum.
"It was the onside kick," he said of the Jets' first successful onside kick since 2017 (also executed by Catanzaro). "Once that happened, there was no doubt we were scoring once we got that ball."
Then came the nine-play, 53-yard passing march to Flacco's 15-yard slant pass to Wilson. Zuerlein's extra point made it 31-30 with 22 seconds left.
Enough time for this miracle to fall to dust on the Cleveland grass.
"You're trying to stay out of their ear," Saleh said of his coaches' chatter on the sideline at that time. "I just told [coordinator] Mike [LaFleur] he's got plenty of time. It was almost normal football. I told him, 'Don't give them too much time when we score.' " Notice the use of "when," not "if."
The Jets defense dropped into three rush and eight cover to slow down Cleveland's advance. The Browns still managed 21 yards on a Jacoby Brissett scramble. But with 12 seconds left, the Cleveland QB, incredibly accurate most of the game, found S Ashtyn Davis, who snatched up the Jets' first takeaway of the game and soon after slid to the ground,
"There's a reason why he's made this team," Saleh said. "He's been getting better every single week."
But Saleh's greatest praise among the plaudits he handed out to everyone on his team went to Flacco, the 15-year veteran who took heat for his role in the Jets' 24-9 season-opening loss to the Ravens. Whatever the next seven games, beginning Sunday at home vs. Cincinnati, will bring, the second-year HC is happy to roll now with his 15-year QB until Zach Wilson returns from his knee rehab.
:Joe's just a calming force. He's been in a bunch of these situations, and he's leading a bunch of young men," Saleh said. "I thought he was cool and calm. He got the ball where it needed to go. They left the door open just a crack. And I know it was enough for our guys to break through. It was awesome."
See the top images following the 31-30 victory over the Browns in Cleveland.