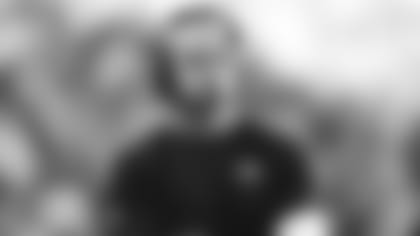 Robert Saleh, who has been an example of cool, calm and collectedness as the Jets' first-year head coach, didn't raise his voice or spit out his answers in talking with reporters following the Jets' 54-13 loss to New England at Gillette Stadium.
Which made the emotion in his speaking voice all the more telling.
"Top down. It starts with the coaching, all the way down," Saleh said when asked how he made sense of his team yielding 551 yards, 32 first downs and the fourth-most points in a game in franchise history. "Obviously, we've got to be better. They punched us in the frickin' mouth and they scored points, so credit to them."
The coach then took a deep breath before concluding: "I've been a part of some of those in my life. They don't feel good."
Saleh and the Jets didn't think this was going to be one of those games. They were coming off their bye week and focused hard all week on making a faster start both offensively and defensively. To a man, they thought they practiced well. On Friday, before the team hit the road, Saleh said, "We've got to put up or shut up, right?"
But the signs early on weren't good. The Jets got Marcus Maye back at safety from his ankle injury, but they didn't get C.J. Mosley back at linebacker due to the hamstring he injured late in London.
On the game's opening possession, the Patriots bolted 65 yards on four plays to the "trickeration" play of WR Kendrick Bourne's soft and sure 25-yard TD pass to wide-open WR Nelson Agholor. On the Jets' opening drive, they went 3-and-out.
From there the Green & White offense hit some plays and missed others. And then Zach Wilson went down with his second-quarter knee injury. The physical issues continued through the second half as linebackers Jamien Sherwood, Quincy Williams and Blake Cashman all left the game (Sherwood actually departing twice), others on offense and defense for shorter periods. Meanwhile the Patriots continued driving and scoring.
The coach explained that he didn't feel this was a time for him to change his personality from the upbeat, reasonable football boss that he's been so far into an angry screamer. He said he knows he's got great character guys on the Jets and that they were "playing their butts off."
Yet he was clearly not happy with what unfolded Sunday afternoon. What upset him the most?
"I always look inward. I look at me first, I look in the mirror," he said. "What did we do? Did we chase something? I always look inward and I'm going to challenge everyone to look inward. Before you start searching for reasons to feel good about yourself and blaming other people, it's not about that. It's about individual fortitude and trying to get things fixed. I'm not upset. It's more disappointment than anything."
Also embarrassment, Saleh admitted.
"Yeah, obviously. This is the NFL. You give up 50 points, it's embarrassing," Saleh said. "I don't think I've had a feeling like this since 2017 against Dallas [a 40-10 win over San Francisco]. It's a helpless feeling. You're just trying to figure something out.
"I'll be honest, we talk about adversity. You can chalk this one up. It's here. I know we've got the right men in that locker room, we'll come back strong. But we've got to get it going."
See Best Images from the Road Game in New England