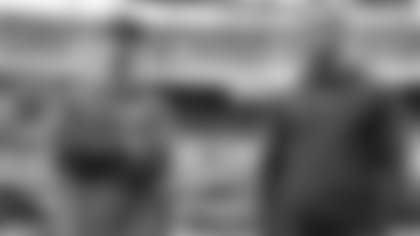 Injured quarterback Aaron Rodgers is expected to return full-time to the Atlantic Health Jets Training Center on or a bit after Thanksgiving. Head coach Robert Saleh said on Wednesday that if Rodgers is cleared to play three months after surgery to repair a torn Achilles tendon, then "he's going to play."
"Aaron is a big boy, a grown man," Saleh said about his four-time NFL MVP who will turn 40 on December 2. "No one is going to know Aaron's body like Aaron knows his body. If Aaron says he wants to play, he's going to play."
On Tuesday, Rodgers appeared in his weekly spot on "The Pat McAfee Show" and said he would rejoin the team after splitting time between rehabbing on the West Coast and flying east (or to Las Vegas) to join his teammates for some games. He said his decision to play would depend on his injury status and the prospect of the Jets making the playoffs.
Asked if there's pressure to stay afloat and wait for Rodgers, Saleh said: "There's pressure to just keep afloat. It's not for any one individual, we're competitors, the players and the coaches, and we want to win. I just think having Aaron would be icing on the cake."
After their three-game winning streak, the Jets (4-5) have lost two straight ahead of Sunday's game at Buffalo (5-5), which will be followed by another important AFC East matchup against the Dolphins (6-3) in the first game on Black Friday. It makes for another short week.
Saleh said neither he nor the medical professionals Rodgers consults with are in a rush to get him back on the field.
"I would imagine he's going to want to acclimate himself in meetings," Saleh said. "There have been a lot of changes since he's been out [injured on the first offensive series of the season]. Obviously, and I've said it before, we have a lot of admiration for him, he's a veteran and we're very young on the offensive side. It's important to get himself back in the building and acclimate to his teammates.
"Whenever the clock starts it starts." That reference was to the period between coming off the injured list, returning to practice and beyond.
On Tuesday afternoon, the Jets waived third-year RB Michael Carter. With the emergence of Breece Hall early last season and the signing in free agency of Dalvin Cook, Carter's play time decreased. As a rookie out of North Carolina in 2021, Carter had 147 carries for 639 yards and 4 TDs. In his second pro year, Carter's rush numbers decreased but he had 41 receptions and totaled 26 first downs. This season, he was mostly used on third downs and limited to 8 carries for 38 yards and 15 receptions for 68 yards.
"We love Michael, I think everyone recognized how great a teammate he's been," Saleh said. "We appreciate the things he's done, but it comes down to we want to give Izzy [draft pick Israel Abanikanda] an opportunity. He's a good young back. It's not fair to ask him [Carter] to sit and rot on the bench. We wanted to give him an opportunity to go play for another team that will allow him to tote the rock."
He added: "Getting cut, it's the ugly part of the professional game. ... Michael has been such a great teammate, we know how he's viewed in the locker room. I know he's been frustrated the last couple of years. His teammates love him, we love him. Selfishly, we'd want to hold him on the roster, but at the same time, they're human and it's the right decision to make."
After last Sunday's 16-12 loss at the Raiders, Saleh said he planned to make some personnel adjustments. The dropping of Carter is likely to only be the first. Saleh he was not "going to get into that now," then said a bit more about his tight ends group.
"We've got three really good tight ends," he said, referring to Tyler Conklin, C.J. Uzomah and second-year man Jeremy Ruckert. "Jeremy has been playing well and deserves more playing time. Conk has been having a nice season [the team's second-leading receiver with 33 catches for 363 yards]. We're talking 5-10 plays between Ruckert and Conklin. He [Ruckert] deserves more. It's something we're looking at."