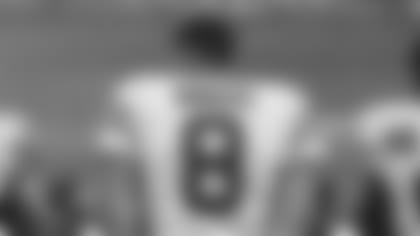 Jets QB Aaron Rodgers has yet to say what his future holds in football after he sustained a season-ending torn Achilles tendon against the Bills. Jets head coach Robert Saleh, however, said on Wednesday that he would be surprised if the four-time NFL MVP and future Hall of Famer called it quits.
"I'd be shocked if this is the way he's going to go out," Saleh said. "But at the same time for him, he's working through a whole lot of head space, and things that he needs to deal with and that will be the last thing I talk to him about."
Rodgers left Monday night's season opener against Buffalo after being sacked by Bills edge rusher Leonard Floyd for a 10-yard loss. Rodgers stood up, but hobbled to the ground with an apparent ankle injury. Trainers helped Rodgers off the field to the blue medical tent before he exited to the locker room on a cart.
After an MRI, the team announced Tuesday that Rodgers ruptured his Achilles tendon and would be placed on injured reserve. As of Wednesday, Rodgers has been taking the necessary steps to get surgery.
"Not to speak for him," Saleh said. "But [I think he is getting] some consultations trying to figure out what the next best move is."
Saleh did not say whether Rodgers would be back with the team for the rest of the season, but hopes he will return in some capacity.
"It's important for him," Saleh said. "I think it's the mental health and healing. I think that's very important, but his presence, his words, his verbiage, like I've said he's as much of a football coach as he is a player.
"I think I speak for everyone in the organization, we all want him here, we all want him to be connected, and I think he wants to be here. But again, that is something we will continue to talk about. Just trying to let him breathe and give him some time to digest everything that's happened."
Rodgers, acquired from the Packers in late April via trade, participated in each of the team's voluntary workouts, minicamp and training camp and built a strong rapport with his new teammates and coaches. During the preseason, Rodgers frequently wore a headset on the sideline and even dialed up a deep pass from now-starter Zach Wilson to WR Malik Taylor that resulted in a 57-yard hookup in the Hall of Fame Game against Cleveland.
Wednesday, Saleh joked about the 11-time the Pro Bowl player potentially wearing a headset during the regular-season games.
"I don't know about that one," he said. "We're limited on headsets, but shoot, if he wants a headset, he can have one."