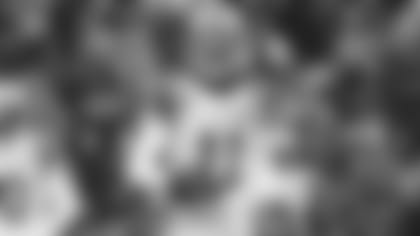 Even though the Jets are no longer in playoff contention, Jets wide receiver Robby Anderson believes there is plenty to fight for in the team's final three games.
"Take this momentum and finish strong," Anderson said on Inside the Jets with Eric Allen and Erik Coleman. "Set a standard for us as a team to show that we're not going to lay down, keep showing that passion. When you play football, your offseason dictates how your season is. I think we understand that as a team that we don't want to go into the offseason with a bad feeling."
After a slow start to 2018, the third-year wideout believes his chemistry with rookie quarterback Sam Darnold is growing after both players missed time because of injury. In Sunday's win over the Bills, Anderson totaled 76 receiving yards and one touchdown on four receptions.
"He just lets me know what he sees, what he expects throughout the week with certain things and what he's looking to do," Anderson said of the 21-year-old passer. "Now, I'm opening up more to him and letting him know, 'I know how he's going to play it like this, just put it up and trust me.' I think that helps — that trust factor."
Coming off a career year in 2017 with 63 receptions, 941 yards and seven touchdowns in 2017, Anderson's patience has been tested this season. The Temple product missed two games with an ankle injury and has been limited to 492 receiving yards and four touchdowns on 31 receptions.
"Things didn't go the same as last year," he said. "I didn't get as many targets in some games, but that's how it goes. You have to make the most of the opportunities."
Opportunity knocked on Anderson's door in Orchard Park. Early in the fourth quarter, he capped off an 11-play, 85-yard drive with a 7-yard touchdown reception. Later that quarter, with the Jets down 23-20 and 1:54 remaining, Darnold launched the ball down the sideline and found the speedster for a 37-yard completion that set the Jets up with first-and-goal. Four plays later, running back Eli McGuire gave the Green & White their first the lead of the game.
"I set [cornerback TreDavious White] up," Anderson said. "They were playing off coverage and I ran a lot of comebacks throughout the game, so I gave him a quick little hesitation and the ball was right there where it needed to be."
As the Jets shift gears towards Week 15, Anderson is ready to compete against a Texans secondary that ranks 24th in the league against the pass (260.6 Yds/G). However, the 25-year-old knows the battle will start with the Jets line battling the likes of defensive linemen J.J. Watt and Jadeveon Clowney.
"That's where everything starts regardless of how good or bad a team might be," he said. "It starts in the trenches, so that's where it's going to start. Just like last week, we're going to have to develop that run and the skill players are going to have to make plays."