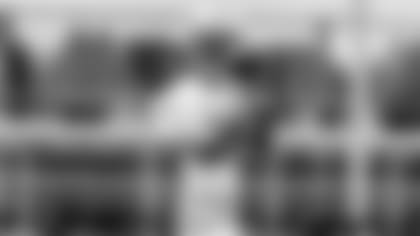 Wide receiver Robby Anderson expressed his appreciation for the Jets after a well-publicized offseason incident that resulted in his arrest.
"That means the world to me and it really motivates me more. I owe them the world," Anderson said of the team sticking by him. "That's why I'm working hard and giving it my all. I know they believe in me and I know they're behind me."
The third-year wideout said he's grown a lot in the offseason and had to overcome adversity, which in turn has made him stronger and defined his vision. Simply put, he's driven.
"I always feel like that, regardless of what happens off the field," he said. "I feel like I have something to prove every week. I'm trying to be the best in the NFL, so that's what I'm trying to prove day in and day out."
The speedster posted a career- and team-high 941 yards and seven touchdowns on 63 receptions in 2017, most of which came with quarterback Josh McCown under center. Anderson is hoping to further his chemistry with the 38-year-old gunslinger, but he also said he's been impressed with the team's other two signal callers in Teddy Bridgewater and Sam Darnold.
"It's like they have three different games," Anderson said. "One's an older vet, one's a young rookie with a lot to prove and Teddy has been in the NFL and wants to reprove himself. It's exciting to see what they bring to the table. All three of them."
The 6'3", 190-pounder echoed head coach Todd Bowles' and coordinator Jeremy Bates' shared sentiment that Darnold, the No. 3 overall pick, has been coming along nicely.  
"I like his game. I like his attitude," Anderson said. "He knows how to throw the ball and I like that he trusts. A lot of quarterbacks sometimes are afraid to make throws when they don't see space, but he trusts you. He puts the ball up and trusts you to make a play, so I like him a lot."
Anderson believes in both the signal callers and the receivers room, which has more depth on paper than last year. The Jets added Terrelle Pryor in free agency and Quincy Enunwa is returning from a neck injury that sidelined him last year. WR Chad Hansen, the Green & White's 2016 fourth-round pick, has also been a standout in the spring.
"I think the sky is the limit," Anderson said. "We have a lot of different traits between each other, but I think we're going to do some big things together."