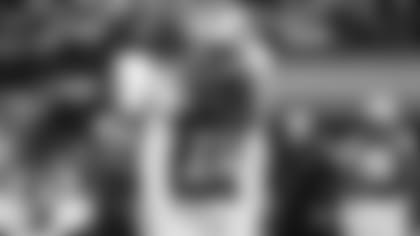 Following an inconsistent start to the 2018 season, Jets wide receiver Robby Anderson is heating up in December.
After last week's win in Buffalo, Anderson said his connection with quarterback Sam Darnold was beginning to click. Then Saturday, despite falling to the Texans 29-22, the Darnold-Anderson connection once again led the Jets' aerial attack.
"It feels real good, I think that it shows that we have that connection," Anderson said. "We've just got to keep building from it, but I think it shows a lot."
The third-year wideout totaled 96 yards and one score on a season-high seven receptions after reeling in 76 yards and one touchdown on four receptions in Week 14.
"Yeah, me and Robby just continue to get good completions, but I think everyone's capable of doing it," said Darnold, who completed passes to nine different players. "So I think it's any given night I can complete the ball to a lot of different guys. These last couple of games it just happened to be Robby."
Anderson's 5-yard touchdown reception cut the Texans' lead to 16-9 with 35 seconds remaining in the half. In a form of déjà vu, Darnold bought time with his feet and hit Anderson in the back of the end zone to cap off a nine-play, 83-yard drive.
"I just looked at him and saw he wasn't open," the rookie signal caller said. "But then once I scrambled, I kind of just looked for anyone and when I got out, I saw he was open along the back end line and threw it to him."
Anderson added "it's a lot of fun" playing with a quarterback that excels off-script. "You can't never expect the play to die. Expect the unexpected with him."
Midway through the fourth quarter down 19-15, Darnold turned to Anderson for 6 yards on fourth-and-1 to keep the chains moving. Five plays later, running back Eli McGuire gave the Jets their first lead of the game on a 2-yard touchdown run.
The rookie signal caller again turned to Anderson on fourth down but they were unable to convert. With 1:59 remaining in regulation down 26-22, Darnold threw a jump ball on fourth-and-14 to Anderson, who had a chance at the ball but was unable to keep the drive alive.
"It was just a little bad judgment by me," Anderson said. "I came a little too much under it and it hit me right off my fingertips. But I've got to make those plays."
Even though the speedster hasn't recorded a 40-plus-yard reception since Week 5, the 6'3", 190-pounder is encouraged by the connection the past two weeks with his starting quarterback.
"I think the future is bright and I think me and him took a lot of steps these past couple weeks," Anderson said. "Let's hope we can finish the season on an even better note and come out victorious next week."
Images from the Week 15 Matchup at MetLife Stadium