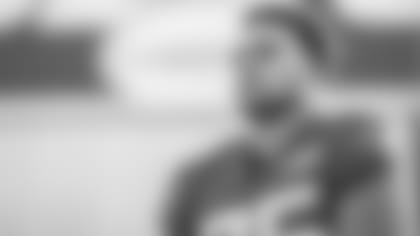 When the Jets moved up in the 2021 NFL Draft to select Alijah Vera-Tucker out of USC, the club was well aware of his versatility, having played on the Trojans' O-line at guard (on both sides of the line) and tackle. He took 100% of the snaps in the 16 games he played last season and flashed Pro Bowl potential at only 22 years old. As the Jets continued this week's round of OTAs, AVT quickly and clearly voiced his support for his move to right guard.
"First off, I was hyped about it," Vera-Tucker said after he received a phone call from general manager Joe Douglas and head coach Robert Saleh immediately after the Jets signed Laken Tomlinson from San Francisco in mid-March. "The guy coming in is from the same offense, he played in the Super Bowl. That's why they've brought him in. They asked me about moving to right guard and I immediately said yes. I did it at USC, so at this point I'm used to it.
"It's just a matter of footwork and being able to switch plays in your head. Once I get it down it will take a couple of weeks, but I'm getting more comfortable about this. This is not like going from guard to tackle, it's not a big deal for me and I didn't treat it that way."
The addition of Tomlinson, the expected return of Mekhi Becton and the drafting of Max Mitchell has injected an air of anticipation among the team's coaches and players.
"In general, we have an opportunity to be one of the best [offensive lines] in the league," AVT said. "As far as me and Laken, he's a true veteran coming off a Pro Bowl season. I get to pick his brain all I can. It's better for my game. I'm excited about what we can do."
Like his teammates, AVT said he is excited by the positive changes and infusion of talent ahead of the Jets' Week 1 game against visiting Baltimore on Sept. 11. There's a long way to go between now and then, but the offense has been fortified by the drafting of WR Garrett Wilson and Hall from Iowa State, a beefed-up offensive line, upgrades at tight end via C.J. Uzomah and Tyler Conklin and a quarterback in Zach Wilson who has not only bulked up but has also smartened up as he's taken a deep dive into the playbook.
"To be honest, being on the O-line I can't see him that much of what he's doing," AVT said about Wilson. "But in terms of leadership, I see him stepping up, communicating with guys in the huddle, doing things quicker, faster and bringing the guys up after practice. I'm seeing that leadership role. It's really cool to see.
"This year feels different. We're more confident in Year 2, in the playbook. Things can always be critiqued, but here with the O-line we have some of the same people and brought in more talent. We've good guys in the locker room who want to come in and compete every day."
Training camp does not open until late in July and the start of the season is more than three months away, but Saleh said the left tackle job is an open competition between George Fant and Becton. Becton, entering his third season, is tending to his newborn in Texas. He could win back his spot, though Fant has said he's more comfortable on the left side.
"I talked to him [Becton] a little bit," AVT said. "His baby's healthy. He's healthy. He's in Texas training his butt off and I'm excited for him to come back. It would be great [to play with Becton on the right]. It was supposed to be us on the left, but it didn't happen because of injuries. I've worked with Fant and with Mekhi. Either one, I'm cool on it."
Vera-Tucker had no inside information that the Jets were about to sign Tomlinson and said: "They kept it in a pretty tight circle. I found out when he got signed. They [Douglas and Saleh] called me immediately after to talk. I'm not worried at all. I said I'd move to the right. Why not? There's a Pro Bowl player on the left side. It makes our offense better. I was cool with it."
See the Jets on the field during the second OTA practice of 2022.