Former Jets ticket director John Buschhorn passed away Monday, but Buschie has cemented a place in our hearts forever.
A native of Queens, NY,  Buschhorn worked in the city as a transit police officer and as a bus driver before breaking into the ticket world with both the New York Cosmos and Ticketmaster. When the Jets needed to fill a ticket manager vacancy in 1994, Bob Parente targeted one man from the start.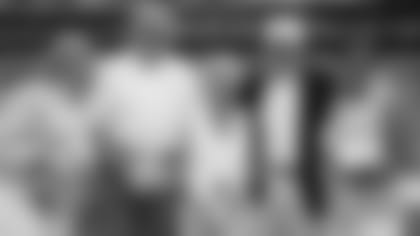 "The first name on the list and really the only name on the list was John Buschhorn - both from a professional standpoint and from a personal standpoint," Parente said. "You could not have a better person to run your ticket department than John Buschhorn."
Parente, a Jets consultant who has been part of the organization for 40 years, and Buschhorn began their relationship when both were part-timers in the ticket department in the late 70s.
Buschhorn had a larger than life personality. He wore a smile and coupled that with a hearty laugh. Buschie made you part of his family – it didn't matter if you were a 250-pound linebacker with eight years of service or a 24-year-old public relations intern.
"His office at Hofstra was the gathering place for everybody," Parente said of the Jets' Weeb Ewbank facility in Hempstead, NY. "It was the place we had the birthday cakes and our celebrations like Holiday grab bag prizes. It was the gathering place because Buschie was so welcoming and wanted people to be there, wanted people to have fun. He kept Krispy Kreme donuts in his bottom drawer for players after practice."
"He made me feel as if I played there for 20 years," added former Jets QB Boomer Esiason, who was a member of the Green & White from 1993-'95. "He and his wife, Sandy, always sent a Happy Birthday wish well after I was gone. What a wonderful way to let someone know you aren't far from their thoughts. Anyone who knows John feels the pain and sense of loss I do. What a wonderful human being he was."
Buschhorn was beyond accommodating with requests and questions. He listened and made everyone feel important. You need tickets to a hot Broadway show? Ask Buschie. What museum exhibit was a must-see? Ask Buschie. What restaurant should you go to after the Knicks game?  Ask Buschie.
"He went the extra mile," Parente said. "He even stayed friends with Coach Belichick when he moved on to New England and Buschie was here in New York. If you were a friend of Buschie's, you were a friend for life.  He kept those relationships with the players and the coaches he got to know. An unbelievable, gregarious, welcoming personality.'
As one would expect, Buschie's office was inviting. He could lure in those with the fondness of sweets and there were also collectibles galore.
"His office was an eclectic gathering of unusual things from his 8-track tape player to his 12-to-15 M&M dispensers to every other collectible that he could find," Parente said. "He loved the bobbleheads. He had bobbleheads all over of players and people that he knew that came down there."
A New Yorker through and through, Buschhorn moved on to Madison Square Garden in 2008 as MSG's director of box office systems and processing.But Buschie never stopped being a Jet.  Each week, he would email his former co-workers a couple of messages. There was always the good luck note that was typically delivered on a Friday or a Saturday and that was followed up by a postgame email as well.
"Even after he left us, he was always a Jets fan," Parente said. "Going to the games, being a supporter and sending messages to everybody. Uplifting, fun messages for the support of the team."
In December, we received an email from Buschie with the subject head *Our New Adventure!  *Instantly excited, you thought maybe Buschie and his beloved wife, Sandy, were off to Europe or maybe he was going to retire and head to the Islands. But instead, we found out that Buschie had a 5 cm tumor on his liver and tests revealed he had cancer.
In the midst of all this, Buschie kept this tag line at the end of his email: *Grateful for yesterday, Thankful for today, Hopeful for tomorrow. *
Not even four months after we found out the diagnosis, Sandy informed us that our Buschie had passed away at 4:04 p.m. Monday. Our hearts are heavy as our tears flow today.
Thanks for the love Buschie.  We are lucky to have you as part of our eternal team.