The opinions, analysis and/or speculation expressed on newyorkjets.com represent those of individual authors, and unless quoted or clearly labeled as such, do not represent the opinions or policies of the New York Jets organization, front office staff, coaches and executives. Authors' views are formulated independently from any inside knowledge and/or conversations with Jets officials, including coaches and scouts, unless otherwise noted.
We've been through the mock process several times and you've probably read a hundred of them, so let's just hit each pick quickly, this time with a few trades mixed in. Here's what we're seeing three days ahead of the draft.
Houston: Khalil Mack, OLB, Buffalo —** It's not a stretch to call Mack a better fit in this defense than Clowney.
2. Atlanta (trades 2014 first- and second- and 2015 second-round picks to STL): Jadeveon Clowney, DE, South Carolina — The Falcons need two things: a tackle and a pass rusher. They trade up for the "once in a decade" Clowney.
3. Jacksonville: Greg Robinson, T, Auburn — Gus Bradley is from the Seattle school: Run the ball. Robinson is a dominant run blocker.
4. Cleveland: Sammy Watkins, WR, Clemson — The new QB, whoever he is, will be handed some major weapons with Watkins and Josh Gordon.
5. Oakland: Mike Evans, WR, Texas A&M — Evans will fight for contested balls and his catch radius is huge — good news for the erratic Matt Schaub.
6. St. Louis (from ATL): Jake Matthews, T, Texas A&M — As steady as they come. The Rams move down and still fill their top need.
7. Tampa Bay: Taylor Lewan, T, Michigan — Mean, tough and long, Lewan can play either tackle spot.
8. Minnesota: Aaron Donald, DT, Pittsburgh — An ideal 3-technique for the defense Mike Zimmer wants the Vikings to play.
9. Buffalo: Eric Ebron, TE, North Carolina — A lot of needs, but with the top tackles gone, Ebron is a playmaker who takes pressure off EJ Manuel.
10. Detroit: Zach Martin, OL, Notre Dame — Lions could go DT, but Martin is a plug-and-play guy at RT and a draft board riser.
11. Tennessee: Derek Carr, QB, Fresno State — No extension for Locker means getting on with the future. Jon Gruden and Phil Simms both call Carr the best QB in the draft.
12. NY Giants: Timmy Jernigan, DT, Florida State — Of the current DL starters, Cullen Jenkins is 33 and Markus Kuhn is ... Marcus Kuhn. Jernigan's not Aaron Donald but he's the next best thing in this draft.
13. St. Louis: Justin Gilbert, CB, Oklahoma State — Gilbert is an athletic ballhawk who could push for nickel corner duties right away.
14. Chicago: Calvin Pryor, S, Louisville — Physical safety who can excel in the box with the range to cover the deep middle if needed.
15. Pittsburgh: Kyle Fuller, CB, Virginia Tech — Best zone corner in this draft.
16. Dallas: Hasean Clinton-Dix, FS, Alabama — D-line is the Steelers' primary need, but there's no value here. Ha Ha has deep middle range and can cover.
17. Philadelphia (trades 2014 first- and third-round picks to BAL): Odell Beckham Jr., WR, LSU — The Eagles feel the need to get in front of the Jets to get 4.3 speed and scary run-after-the-catch skills into Chip Kelly's offense.
---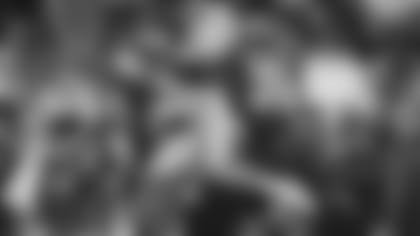 18. JETS: Darqueze Dennard, CB, Michigan State — The truth is there are better athletes at the corner position in this draft (Gilbert), guys with more speed and quickness (Verrett), guys with a better all-around skillset (Roby), and better zone corners (Fuller). But Dennard is the best physical press-man corner of the bunch, and that is right in Rex Ryan's wheelhouse.
The Jets cannot run their pressure defensive schemes without a press-man corner who can play out on an island. With Revis and Cromartie both gone and Milliner still a work in progress, Dennard already owns the skills that can put him on the field right away and maybe contribute more quickly (and more effectively) than Milliner did a year ago. He's long, very physical in coverage and against the run, and he's confident with the ball in the air. In our opinion, a perfect fit for the Jets defense.
---
19. Miami: Xavier Su'a-Filo, G, UCLA — Branden Albert was a start, but the Dolphins aren't done rebuilding the O-line yet.
20. Arizona: Anthony Barr, OLB, UCLA — John Abraham is 36 years old and Barr is just outside the top 10 on our board. A natural pass rusher who brings great value at this spot.
21. Green Bay: C.J. Mosley, ILB, Alabama — Versatile guy inside or outside in Dom Capers' scheme.
22. Baltimore (from PHI): Cyrus Kouandjio, T, Alabama — A physical and aggressive run blocker from a winning program who can replace Michael Oher at RT.
23. Kansas City: Marqise Lee, WR, USC — Lee had almost 120 catches two years ago when he was healthy. A great complement to Dwayne Bowe.
24. Cincinnati: Ryan Shazier, OLB, Ohio State — A three-down player with speed who can play any LB spot in the Bengals defense.
25. Jacksonville (trades 2014 second- and third-round picks to SD): Johnny Manziel, QB, Texas A&M — Jags need to get ahead of Cleveland to get a guy that will remind Gus Bradley of Russell Wilson.
26. Cleveland: Blake Bortles, QB, Central Florida — Browns may actually prefer Bortles' strong arm in the weather up there, and with Vince Young, Tyler Thigpen and Brian Hoyer on the roster, he doesn't have to play right away.
27. New Orleans: Brandin Cooks, WR, Oregon State — Marques Colston can't stay healthy, Robert Meachem is limited, and the jury is still out on Nick Toon.
28. Carolina: Jason Verrett, CB, TCU — Quick, instinctive and aggressive, but short. Best as a nickel corner.
29. New England: Louis Nix, NT, Notre Dame — Wilfork Jr. He's 330 pounds and light on his feet. An athletic big man to anchor the middle.
30. San Francisco: Ra'Shede Hageman, DL, Minnesota — Justin Smith can't play forever. Hageman has a high ceiling and an inspirational story and brings versatility to the Niners' front.
31. Denver: Bradley Roby, CB, Ohio State — Bump-and-run corner with great athleticism who fills a major need with the departure of Champ Bailey.
32. Seattle: Kony Ealy, DE, Missouri — A tweener with natural pass-rush ability. Pete Carroll will figure out how to maximize his talents.