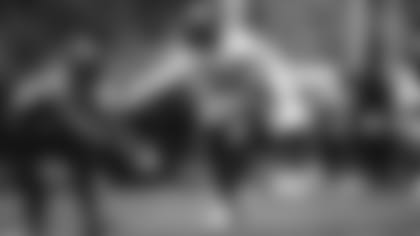 If personality, insight and candor could win football games, Jets running back Michael Carter would be hitting paydirt every time he touched the ball.
Heading into only his second season in the NFL, the University of North Carolina man has quietly but quickly emerged as an amusing and honest commentator on the state of the Green & White.
Asked a few weeks ago if the drafting of Iowa State RB Breece Hall would have a negative impact on the number of Carter's touches, he didn't blink and he wasn't being disingenuous when he said: "There's enough for all of us to eat."
In the ultimate team game, Carter is the ultimate team player. Powerfully built at 5-8, 210, Carter emerged as the Jets' No. 1 option in a running-back-by-committee approach that last season included the veteran Tevin Coleman and Ty Johnson. Ahead of the start of training camp in late July, Carter and Hall are believed to be the emerging tandem, with Coleman, Johnson, La'Mical Perine and the undrafted free agent Zonovan "Bam" Knight contending for the remaining snaps and roster spots.
"From top to bottom, it's a really good group, with new guys and guys returning," he said. "Another guy I'd like to put on the spot is Perine, he works his butt off every day. People are going to say what they're going to say. He works hard, we all work hard. We're all talented.
"Of the new guys, Breece showed a lot in college. I'm excited to see him transition [to the NFL]. Along with Bam he's an excellent player. I can't believe he went undrafted. I played against him three times in college. I can't believe he went undrafted; he's going to make the league pay."
Asked if he felt like a young veteran ahead of his second season, Michael Carter was typically Michael Carter: "A little bit, actually, no, yeah, a little bit."
In 14 games last season (11 starts), Carter, 22, amassed 639 yards (4.3 yards a carry) and 4 TD rushing, he added 36 receptions for 325 yards (9 yards a reception).
"I feel comfortable, but never too comfortable," he said. "At the end of the day, this is my job. I'm having a lot of fun in the building back around the guys, learning more and understanding where my game can go. I've got bigger goals and I'm trying to bring guys along with me."
Carter, along with second-year quarterback Zach Wilson, are only two of the Jets players on offense who will benefit from the arrival in free agency of left guard Laken Tomlinson from the 49ers.
"The first thing I did after hearing the news was I hit up Coach Embree [Taylor Embree, the Jets second-year running backs coach who was with San Fran from 2017-19]. All year we would watch blocking clips, and he'd just say 'look at Lak look at Lak.' Every week he said something about Laken. Fast forward and we sign Laken. I couldn't believe it. I texted him and AVT [Alijah Vera-Tucker] and asked who's going to wear No. 75. They said they had already figured it out. I'm excited to have Laken here. He's an awesome person and an amazing player, a ProBowler. Super cool.
"You can't win without being close to your teammates. Do your job and the rest will take care of itself."