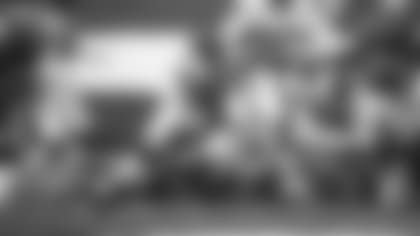 After his media availability on Sunday when the Jets' lost to the 49ers, 31-13, in the season's home opener, there was one consistent theme from RB Frank Gore's comments: Get better. Improving not only on offense, but in all three phases of the game: offense, defense and special teams.
"As a team in all three phases we have to get better or it can get ugly," Gore said. "Us ,as men in the locker room and with the coaching style we've got, we're going to keep working to get ourselves better as a team, cleaning up the mistakes and try and get a win next week."
He added: "Every time your offense starts getting on the field, you want to get points. No matter if it's three of seven, we want to get points. They're [49ers] a great team over there, we just didn't capitalize when we had a chance. We have to get better as an offense and as a team."
Despite the team's second consecutive loss, the Green & White's rushing offense did improve compared to the Week 1 outing at Buffalo (52 rushing yards). Against San Francisco, the Jets rushed for 104 yards with Gore getting more than half -- 63 yards on 21 attempts.
But the improved rushing numbers didn't tell the whole story. The Jets had multiple scoring opportunities, yet failed to take advantage. One chance came in the first quarter when the Jets were on the 49ers' 18-yard line. Gore twice took handoffs, which resulted in a loss of 2 yards and a game of 3 yards. K Sam Ficken then kicked a's 41-yard FG. The Jets had two more chances to score in the second and third quarters, but did not score a TD until the game's waning moments.
"We have to stay together," Gore, 37, said. "We have to get better as an offense, as a defense, and special teams. We work good throughout the week, but we have to carry it over on Sunday and do it. When we get opportunities to make a play, we need to make a play. I feel like I could have played better and done things to help this team early on. Everybody has to look at each other and know that. Each man has to do better for this team."
Even though the Green & White (0-2) is off to a slow start ahead of Sunday's game at Indianapolis, Gore remains optimistic.
"Keep believing in yourself and keep working," Gore said. "We're working hard, we just have to carry it over on Sundays and do it. As I said, all three phases we have to do it. 0-2 is still a long season, and we just need to get one. That's our main focus is try and get one. We have to watch this film, do better. I have to play better and move forward."