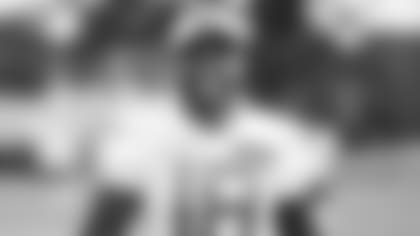 As the Jets' pursuit of Aaron Rodgers took on the properties of a six-week limited streaming miniseries, WR Randall Cobb kept close tabs.
"I had my popcorn," Cobb said during this week's series of OTAs at the Atlantic Health Jets Training Center. "I was waiting to see how it played out. You never know how things go in this business. People forget it is a business."
Once the trade with Green Bay for Rodgers was completed, Cobb came into the picture for another "reunion" with the four-time NFL MVP. After eight seasons in northeastern Wisconsin, Cobb played with Dallas, then Houston before he rejoined the Pack in July of 2021. Now, along with former Packers OC Nathaniel Hackett, WR Allen Lazard, T Billy Turner and QB Tim Boyle, Cobb has found familiar faces in a new place.
While many surmised that Cobb joining the Green & White was tethered to his close friend (and the godfather to his 3-year-old son), the 32-year-old veteran said otherwise.
"For me, the big piece was Hackett," Cobb said. "I played with him in Green Bay in 2021 when I got traded back." He added: "It definitely is a little bit easier transition knowing people here. The [offensive] scheme is new to some, but familiar to me. I understand how I fit into it and allowing the [WR] room continuity to grow. There's a lot of talent and it's about them getting up to speed and with the detail that's expected."
At the conclusion of the Packers 2022 season, a 20-16 home loss to Detroit that denied Green Bay a playoff berth, Cobb said that he felt -- he knew -- that he and Rodgers were walking off the turf at Lambeau Field for the final time.
"We knew the time was coming, we didn't know what to expect," Cobb said. "We had a feeling it would have been our last game in Lambeau. I've known him over a decade now, we've kind of grown together and understand each other in a different way. He's godfather to one of my kids, he stood at my wedding."
Cobb spoke eloquently and with great feeling about Rodgers.
"He's one of the most special individuals I've been around. Very caring, very knowledgeable, puts in the time and effort to learn things he doesn't know about. When people tell him something, he asks why. Thoughtful. We had a party for my son and he flew in for a 3-year-old's party. That's the type of person he is."
In his 10 seasons playing mostly with Rodgers at QB before coming East, Cobb caught 532 passes for 6,316 yards (11.9 a catch) and 47 TDs. In 2014, a Pro Bowl and AP First Team All-Pro season, Cobb caught 91 passes for 1,287 yards (14.1 a catch) and a career high 12 TD receptions.
On a trip to the Kentucky Derby last month with Lazard, Cobb told Kay Adams of the "Up & Adams" show: "I think this whole change of scenery has been great for him [Rodgers], it's re-energized him. I went up to the facility a couple of days ago to sign and just to see him happy and being himself, and the old Aaron Rodgers that I remember, he's himself again. I look forward to seeing him continue to grow and find himself."
He expanded on those observations this week.
"I definitely don't know how long you've been in your jobs," he said to reporters. "But imagine being somewhere for 18 years then going someplace new. I can see it on his face. He's still him, still learning in a new environment. The jersey's still red [for QBs] right now, that didn't change. When he puts the helmet on, he looks different. Then [jersey No.] 8, it's different. I'm used to calling him 12."
In Cobb, HC Robert Saleh recognizes a mentor in his midst, but also a guy who can still perform at a high level. One steeped in Hackett's system and in sync with Rodgers.
"Remember Hackett was with Randall, too, so he's a guy who's got a lot of experience in the system." Saleh said. "He's a guy that they're very comfortable and familiar with. He's a guy who, again, to go back to the question I just answered, flag bearers, like the guys who are going to plant the flag and be able to echo the messaging, they already know what it is. To have those guys are priceless.
"When a player's hearing it for the first time, they're like, 'God, I'm not getting it.' And then, here comes the vet to step in and say, 'Well, let me break it down to you in another way.' And players speaking to players just always comes off a little bit differently. It comes off a lot more powerful, so there's a lot of elements to that, but again, to bring in a guy who can still play the game at a high level, who knows the system inside out, who stands for everything you want, it's really a no-brainer."
That element of mentoring, sharing information, is something Cobb recognizes and embraces.
"I look forward to it," he said. "I'm going to be me and that's to help everyone I can. I've been on winning and losing teams, and I've got a lot to share and I want to while I'm still here."
See the Jets on the field for the fifth OTA practice of 2023 on Wednesday afternoon.