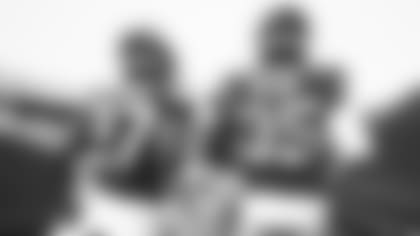 The Jets and Colts seem to be as close as non-division teams can be in the NFL, and it has nothing to do with their first "friendly" meeting in Super Bowl III or their 32 years as AFC East brethren until realignment in 2002.
It may have something to do with the just the way the players have flowed through the Colts-Jets pipeline, mostly toward the Jets, over the past half decade.
Frank Reich, the Indianapolis head coach, is well aware of the connections, and not because he was a Jet himself, a seven-game QB starter in 1996. And those connections include 12 players, most of them on the active roster, who came to the Green & White either directly or indirectly from the Horseshoes.
"I definitely never experienced anything like this," Reich said this week as he was preparing his Colts to host the Jets in Lucas Oil Stadium on Sunday. "It's pretty cool, actually. It's one of the great things about this league. I can tell you this: The names [on the Jets roster] that I now, that were here when I was here, I knew every one of these guys. They still have a lot of good football left in them.
"I know I would've said that to every one of these guys leaving this building. And it's hard, because not only are a lot of them good football players. They're good people. I still keep in touch with one or two of them. I've got a lot of respect for these players."
Not all of the former Colts became Jets the same way. Here's a breakdown of Jets players with Indy roots:
Table inside Article

| Current Jet | How Arrived | When Arrived | Colts Seasons |
| --- | --- | --- | --- |
| LS Thomas Hennessy | Trade | Aug 2017 | 2017 PS |
| DL Henry Anderson | Trade | Apr 2018 | 2015-17 |
| LB Tarell Basham | Waivers | Oct 2018 | 2017-18 |
| CB Arthur Maulet (IR) | Free Agent | Jan 2019 | 2018 |
| S Matthias Farley | FA | Aug 2019 | 2016-18 |
| CB Nate Hairston | Trade | Aug 2019 | 2017-18 |
| TE Ross Travis (PS) | Waivers | Dec 2019 | 2017-19 |
| OL Josh Andrews | UFA | Mar 2020 | 2018-19 |
| CB Pierre Desir | Free Agent | Apr 2020 | 2017-19 |
| CB Quincy Wilson | Trade | Apr 2020 | 2017-19 |
| RB Frank Gore | Free Agent | May 2020 | 2015-17 |
| WR Donte Moncrief (PS/IR) | Free Agent | Sep 2020 | 2014-17 |
There is one person in the Jets front office with Colts connections that had a little bit to say about some of the above transactions, and that is Jets assistant general manager Rex Hogan, who served as Indy's vice president of player personnel in 2017-18. Reich had words of praise for Hogan, even if it might mean a few more good players and good people leave Indianapolis for North Jersey in the coming years.
"Rex was key in what we did personnel-wise," said Reich, who took over as Indy's HC in 2018. "Just getting to know him, the couple of years he was here, he not only had a great football eye but he was a class act as a person. So Rex played a big role in helping us form this team here."