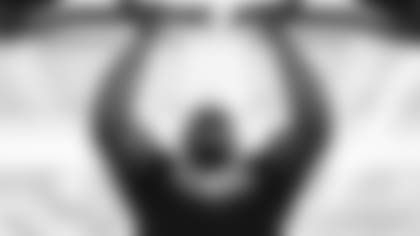 Quincy Enunwa has to agree that a new era of Jets football is upon us.
One reason was that the Jets wide receiver said that at last week's new uniform launch. "The black definitely has grown on me," he said of the all-black combo that the Jets will wear for three games in 2019. "I love the design, I love the helmets. It's a complete change from what we're used to."
But other reasons are the start of Adam Gase's head coaching tenure, the new pieces being added to the offense — and some new ways of using the 6'2", 225-pounder that Gase has put out there during interviews at the NFL Combine and league meetings.
"Yeah, I heard that and I'm very excited," Enunwa told Eric Allen of newyorkjets.com. "It's good because it shows that my hard work is paying off. Coach saw that and knows he needs to get me the ball, so I'm excited."
That's exactly what Gase said about "Q" at the coaches' breakfast in Phoenix.
"I look at him like we have to get him the ball," he said. "I want to make sure we do a good job of giving him variety. I remember when we were about to play him, there was some frustrations coming out of him catching too many screens and the physical part of the game. We just want to make sure we do a good job of giving him the full gamut of route complements.
"At the same time, we have to find ways to get him the ball because he does have a unique ability to catch it and run with it."
Enunwa has shown himself to be a YAC-master in his three healthy seasons as a Jets WR. By one unofficial measure, he has the three best yards-after-catch seasons by any Jets WR with at least 10 catches in the last 15 years — 6.2 YAC averages in both 2015 and '16 and 7.3 last season. By another unofficial measure (360.sportradar), from 2015-18 he has a 6.5 YAC average that's fifth-best among NFL wideouts.
And Enunwa has three of the six longest single-catch YACs among Jets WRs in the last four seasons:
Table inside Article

| Jets QB | Jets WR | Game | Opp | Y@C | YAC | Yds |
| --- | --- | --- | --- | --- | --- | --- |
| G.Smith | Q.Enunwa | 2016 Gm 7 | BAL | 7 | 62 | 69-t |
| R.Fitzpatrick | B.Marshall | 2015 Gm 13 | TEN | 7 | 62 | 69-t |
| R.Fitzpatrick | Q.Enunwa | 2015 Gm 15 | NE | 3 | 45 | 48 |
| J.McCown | J.Kearse | 2017 Gm 12 | KC | 7 | 44 | 51 |
| S.Darnold | R.Anderson | 2018 Gm 5 | DEN | 36 | 40 | 76-t |
| S.Darnold | Q.Enunwa | 2018 Gm 4 | @JAX | 5 | 37 | 42 |
"We probably, at some point, have to tell him to get down when he's dragging, like, nine defenders on his back," Gase said with a smile, adding, "He's a strong runner and he can move the chains."
That's all music to Q's ears. He wants to be more than "the bubble screen guy." But Enunwa is most interested in the overall success of the offense and the team, and he likes what he's heard so far.
"Definitely it feels like a whole fresh start when you're talking about the talented people we brought in, the coaches we brought in," he said. "It feels like a new team in a way, so I'm definitely excited to see how we put it all together."