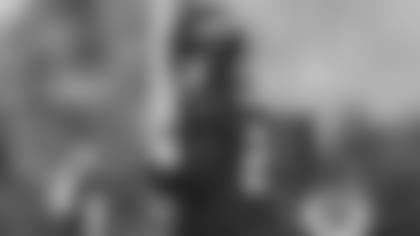 Jets QB Zach Wilson had his best outing of the season, and arguably of his career, in a 23-20 loss to the Kansas City Chiefs Sunday night. But according to the third-year quarterback, he has a lot of room to grow heading into the Jets' Week 5 matchup at Denver.
Leading up to bout with the Broncos, Wilson is focused on correcting his mistakes to help the team leave Empower Field at Mile High with a 2-3 record and snap a three-game skid in the process.
"I think the growth is one of the most exciting things in football," Wilson said. "For me, it really comes down to how can I be better in this next game? We didn't win the game. I have to be better. Everyone needs to find those little things of how we can be better, and I absolutely found those things."
Against the defending Super Bowl champions, Wilson completed 28-of-39 attempts for 245 yards, two touchdowns and zero interceptions. He posted the second-best single-game completion percentage of his career (71.8%) and the highest passer rating of his career (105.2). In addition, the Jets offense, that averaged 13 first downs per game over the first three weeks, in Week 4 converted a season-high 18.
"I was just playing loose, playing free, momentum being on our side, getting drives going," Wilson said. "I would say that is our biggest thing as an offense, not even just me. I think as an offense we just did a great job of getting into a rhythm, getting some flow, getting going, and scoring touchdowns. Getting first downs, that's the key."
Offensive coordinator Nathaniel Hackett was impressed by how Wilson deflected criticism ahead of the game and the young signal-caller's execution on gam day.
"Whether something went good or bad, he stayed the same throughout the game," Hackett said. "I appreciated that. He understood what we were trying to accomplish within that game, the different plays that we had, the ways that we were trying to attack them, and he was unbelievably efficient."
As the Jets offense preps for Denver, Wilson has emphasized a fast start. The Jets have yet to score a first quarter touchdown and against Kansas City, Wilson completed 5-of-8 throws for 30 yards and the offense converted 2 first downs in the opening quarter. The Denver defense has struggled to get stops this season while allowing a league-worst 150 points, 704 rush yards and 13 pass touchdowns.
"I think you ease into a game," Wilson said. "But I almost feel like the defense does too, so we need to come out fast as well. They are easing into what we are doing on offense, so we need to be able to come out right from the beginning. Screw third downs, let's get some first downs on first down and second down, let's start fast and get some big plays from the beginning."
Wilson completed passes to 10 different receivers vs. the Chiefs and is fixated on putting the ball into playmakers' hands vs Denver.
"I think the guys around me did an unbelievable job making plays," Wilson said. "I thought the o-line did an unbelievable job upfront of making plays. In the pocket, I thought we were clean all game and the defense holding teams under 25 points is always going to be a good thing. For me, I need to judge myself more on a play-to-play basis. Great, you threw one good throw on this play, but you can't screw up the next one."
See photos of the Jets during Thursday's practice during Broncos week.