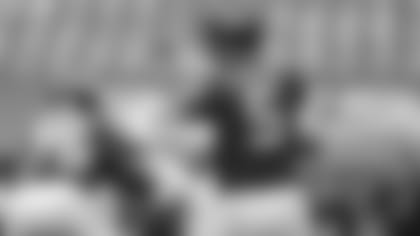 The Jets took some encouragement from QB Joe Flacco's unbeaten career record against the Miami Dolphins, seeing it perhaps as a harbinger of something good to come at Hard Rock Stadium on Sunday.
Flacco, starting in a second straight game for an injured Sam Darnold (shoulder), entered the game with a personal 6-0 mark against Miami. That streak came to an end in the Jets' 24-0 loss, which dropped the Green & White's record to 0-6.
"Look, I don't feel good," Flacco said. "We didn't win the football game and we didn't play well enough. I'm just happy with the guys at the end, they fought. But it definitely wasn't a good game."
The Jets wanted to start fast and clean their palates by hitting the Dolphins quickly. On the their first series of the game, Flacco looked for one of his former teammates with the Baltimore Ravens, Breshad Perriman. Perriman returned to the lineup after missing three games with an ankle injury. On second-and-7 from their own 28-yard line, Flacco dropped back and lofted a long pass to Perriman on the left flank that fell incomplete. The third down play was the same as the previous play, with the same result.
"We knew what they do is play people tight man-to-man," Flacco said. "We figured they would be doing that and it would probably give us a chance to get off to a good start. We just haven't made it happen. From then on out they did things to take things away, blitzing and playing Cover-4."
Flacco was harried by the Miami defense all game as the Jets desperately tried to get the offense going. He was sacked three times, including being dropped for a 28-yard loss in the fourth quarter by Emmanuel Ogbah, who had two sacks in the game. Miami was credited with 10 QB hurries and the Jets were tackled 7 times for a loss.
After completing 18-of-33 passes for 195 yards with 1 TD in the Jets' 30-10 loss to the Cardinals in Week 5, on Sunday Flacco was 21 of 44 for 186 yards, 1 INT, no TDs for a 50.0 passer rating (he was 9 of 10 in the first half for 59 yards). In addition, the Jets (and the Dolphins, for that matter) found it nearly impossible to convert on third downs: the Jets were 2 of 17; Miami 1 of 9. The Jets did not get that first down until late in the game, on Flacco a pass to Perriman.
"I think [at that point in] the game it was 0-20 [by both teams] before the last couple of drives," Flacco said. "It was a tough game. One thing we can do is hold our heads high and keep fighting. It was ugly, they really came after us."