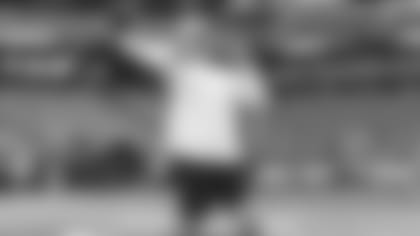 While Aaron Rodgers sat for a third consecutive preseason game Saturday night, a little more than three weeks remain before he'll take the ball for the Jets against the Bills to kick off the season on Monday Night Football.
"I can't wait to see everybody at MetLife next week and then Sep. 11th," Rodgers told the CBS New York broadcast crew as he wrapped up a short in-game interview during the Jets' 13-6 loss to the Buccaneers.
Jets HC Robert Saleh said "we'll see" when asked if Rodgers will play next Saturday when the Green & White conclude their summer schedule against the cross-town Giants. The future Hall of Famer has had a great time with his new club since the Jets acquired him from Green Bay two days prior to the NFL Draft.
"It's been a lot of fun," he told Ian Eagle and Anthony Becht. "I'm still learning a couple of last names, but I am having a blast. It is a big change, 18 years in one place, but I'm having a good time with these guys. These young guys are really making it fun and giving me some extra energy. But I miss being out there —I'm excited for the regular season to suit it up and see how loud this place can get."
Rodgers (39) cited actor Matthew McConaughey (53) when referencing the different eras inside the locker room.
"It's like Matthew McConaughey said: every year I'm in the league, I get older, and they stay the same age, the young guys," Rodgers said. "So you have to find ways to relate to these guys and see what they're into and it's a great group. I'm having a blast, I really am. It's a great staff, a bunch of really good young players. We brought in some veteran guys who can really play and I'm excited. We get to go against a top-five defense every single day in practice and just see what we're made of and it's fun to see the growth."
In his illustrious 15-year run as the Packers starting quarterback, Rodgers led Green Bay to the postseason 11 times. He believes the Jets have the right DNA to contend for a championship.
"And we have a chance to do it, we have a chance to be in the mix," he said. "And as an older player, that's all you can ask for."
As Rodgers' first summer in New York nears a close, he continues to embrace a seismic change.
"Honestly, it was the only spot," he said of the Jets. "I felt like it was the absolute dream fit for me."