Captains:**#21 Marcus Gilchrist, #29 Bilal Powell, #77 James Carpenter, #96 Muhammad Wilkerson
Leonard Williams:Second-year DL Leonard Williams sacked Russell Wilson for a loss of seven yards in the first quarter to increase his season total to 4.0 and his career total to 7.0. Williams currently is tied for third in the NFL in total sacks.
In the first quarter, WR Brandon Marshall extended his streak his streak to 148 consecutive games with a catch when he hauled in a season-long reception of 41 yards. It is the second-longest active streak in the NFL.
Marshall later recorded his 80th career touchdown in the waning moments of the first half to bring the Jets within four points, moving him in the top 25 all-time for touchdown receptions. He is now one of 15 wide receivers in NFL history to amass 800 receptions, 11,000 receiving yards and 80 receiving touchdowns for his career.
Since the start of the 2015 season, Marshall leads the NFL in receiving touchdowns in home contests (11).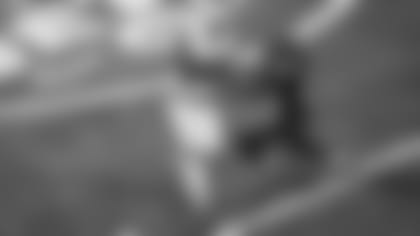 Most Receiving Touchdowns at Home, Since 2015
**
Charone Peake:Rookie WR Charone Peake hauled in his first career reception in the second quarter on a 16-yard pass from QB Ryan Fitzpatrick. Peake later recovered a fumble in the fourth quarter and returned it 42 yards for a touchdown, the first of his career. It marked the first offensive fumble recovery for a touchdown by a Jets player since G Matt Slauson scored on a one-yard touchdown against DEN (11/7/11). Peake finished the game with three receptions for 30 yards.
Quincy Enunwa:WR Quincy Enunwa finished the game with six receptions for 60 yards, improving his season totals to 23 receptions, 243 receiving yards and one receiving touchdown. Enunwa's reception total currently is tied for sixth in the NFL.
Negative Yardage:Entering Sunday, the Jets defense had accumulated 28 combined sacks and tackles for loss through three games, the fifth-most in the NFL (per Sports Radar). Against Seattle, the Jets defense forced the Seahawks into nine such plays, including 2.0 sacks for a combined loss of 21 yards. For the year, the Jets defense has limited opposing offenses to negative rushing yardage on 23.0 percent of rush plays, which currently stands as the second-highest percentage in the NFL.
Bilal Powell:RB Bilal Powell finished the game with 26 rushing yards and six receptions for 54 receiving yards. It marked the eighth game of his career in which he's registered five-or-more receptions. Powell has now tallied six-or-more receptions in consecutive weeks.
Home Defense:In the second home game of the season, the Jets limited the Seahawks to 66 rushing yards on 26 carries. Dating back to 2015, the unit has surrendered a league-low 729 rushing yards (224 attempts) and two rushing touchdowns in home contests.
Skrine Sack:CB Buster Skrine recorded his first sack of the season and the second of his career in the fourth quarter, wrapping up Russell Wilson for a loss of 17 yards. ­­­­­
Tanner Purdum:LS Tanner Purdum appeared in his 100th consecutive game since joining the Jets in 2010.
Iron Man:Veteran LB David Harris made his 120th consecutive regular-season start against Seattle. It is the second-longest active streak among defensive players in the NFL and the longest among linebackers.