What's the biggest difference between being a professional and a collegiate athlete?
I think the preparation and the mindset are different. You've got all these guys that are getting paid to play, and it's the best of the best. You have to take everything up another notch or another level.
You went to NC State and you're also from Raleigh, so are you adapting to the northeast vibe?
*It's a lot more laid back down south. We're more calm and chill. Not saying it's a bad thing, but it's just different. I'm adjusting to the fast-paced lifestyle. It's a lot louder here too. *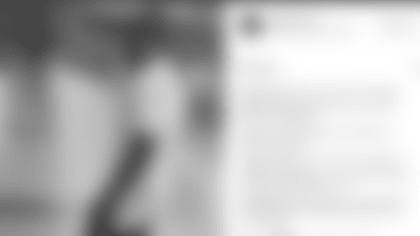 What's your biggest purchase since signing your contract?
*I guess my car. Mercedes CLA 250. *
What do you enjoy doing on your days off?
*I love to watch movies. I'm a big movie guy. Training Day is up there as one of my favorites. Denzel (Washington) is the best. *
What would you want to do if you weren't an NFL player?
*I would be a comedian. I'm a funny guy, you know. *
How is your rookie season going so far? Just on a personal note.
*I'm just getting used to it. I'm having a good time. Obviously, the record isn't what we want, we want a few more wins, but we'll get that turned around. Personally, I love it up here. I'm starting to get used to the area. I'm having a good time. *