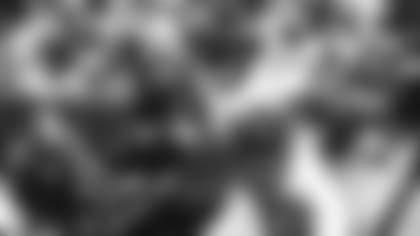 Yardage battles don't win NFL games. And even if your team's defense is stingy with the yards, it may have given up a twisting, turning, tackle-breaking run that undoes a lot of the good feeling of the day.
Players such as LB C.J. Mosley, S Marcus Maye and DL Sheldon Rankins know the Jets didn't win any wars in their 25-6 loss to the Patriots. But they prevailed in some battles that will help the Green & White grow as they head deeper into the 2021 schedule.
"There's a new energy, a new culture, a new staff. It's a new season," said Maye, the returning team MVP. "I'm not going to keep talking about last year and all the old stuff and things like that because I'm looking forward from here on out."
"Listen, losing's never a good feeling," said Rankins, the thoughtful lineman who came to the Jets from a stout stay in New Orleans. "I don't think anyone in here is walking out with a good feeling right now. But the beautiful part about this game is we get the chance to make the corrections and come back and put another step forward to playing the style we want.
"Look, it wasn't all bad. I think as a defense, we showed some good things. But there's still some things we've got to be able to take off the tape."
As in remove them from replays on future game videos. Rankins mentioned eliminating screen passes and draws, some of which the Patriots hit on.
And then there was the 26-yard burst up the gut by Damien Harris, during which multiple Jets hit him but fell away before he fought through a crowd of white jerseys and pants inside the 5 to complete the highlight TD run. That gave the Patriots a 19-3 lead with 10:24 left in the third quarter that brought an ominous feel to the game for Jets followers.
"We can't have it, point blank, period," Rankins said. "For a guy who runs as hard as Damien does, he's going to run through arm tackles or tackles where guys aren't able to drive with their feet behind them. We just can't have plays like that where we're going to miss five, six, seven tackles and allow guys to run down the middle of our defense and score touchdowns.
"We'll be able to watch that in the film room and correct it. But it's not our standard and we won't stand for it."
Yet that was one of only a few plays that stung the defense, while the unit pressured rookie QB Mac Jones and his offense. Jones was sacked three times — by Maye, John Franklin-Myers with the D's first strip-sack of the year (still recovered by the Pats) and two plays later by Rankins.
And the Jets posted a healthy eight tackles for loss. Three were on pass plays, five on rushes, with DL Shaq Lawson's 2.5 TFLs leading the way.
Another area where the defense stood up: New England converted three of 12 third downs, a 25% success rate that was the Patriots' worst in their last 11 meetings with the Jets. The final third-down stop came after the Pats sat second-and-goal at the Jets 2 late in the game, when the outcome wasn't in doubt. Harris didn't bounce off of any tackles when he was taken down for a yard loss by LB Del'Shawn Phillips, then for minus-5 by Lawson and Quincy Williams.
"It's a team effort," May said of the Pats' 261 total yards, their least vs. the Jets since 2014. "You've just got to find ways to keep giving the ball back. Every time we step out on the field, it's our job to give the offense the ball back and eliminate the other team from getting points."
Sixteen of the Patriots' points came after three of Zach Wilson's four interceptions while only nine points came on short non-TO possessions. Again, not a victory by any means, but a sign perhaps that the Jets defense going in the right direction.
"It's early. We still have faith," Mosley, who led all defenders in the game with 10 tackles, said of the Jets' 0-2 start. "I know it looks familiar to a lot of people, but I can assure you that this is not the same team. We're always going to show resilience, we're always going to battle. That's the picture I try to paint. Even on that goal line stand at the end, it was all heart for us.
"In the locker room, we told ourselves we had a great week of preparation, everybody came into this game confident. Now we've got to take it to the next level. It's not on the coaches. It's on the players wearing the uniform."
See Best Images from the First Home Game of the 2021 Season