Christian Hackenberg is a professional freshman, studying each day in the film room and taking more reps daily as training camp rolls on. He hasn't been tested in game action yet, but the Jets' second-round pick could make his preseason debut Friday night against Washington at FedExField.
"I want to play and help this team win — that's what everyone wants to do," he said before head coach Todd Bowles told the media the plan was to get Hackenberg some action against the Redskins. "But at the same time, there are different roles that each guy has to play on the team. For me right now, with what Coach expects out of me, I'm doing everything I need to do to hopefully get that opportunity down the road and then take advantage of it."
A First For MeHackenberg is certainly in foreign territory, listed No. 4 on the QB depth chart. He did not play a snap against the Jacksonville Jaguars and has received the fewest reps of any signal caller on the roster this summer. But Hackenberg, always the BMOC at Penn State after arriving as the No.1 high school recruit in the country, embraces his situation. While he works with urgency, he knows it will take time to digest offensive coordinator Chan Gailey's system.
"I think they really want to see me master it before I have to go out and do something. I think that's really cool because that's a first for me," he said. "You know what I mean? My freshman year I got crammed into a study session of a system in college and then the following year I had to learn one in basically an offseason as well. Being able to really just take my time, digest it, and not be forced to go through a crash course with it is pretty cool."
During practices this week, Hackenberg led the scout team offense against the first unit defense. Little steps, but you can't measure more reps.
"You are looking at a play on paper and you have to translate it to the defense that's coming right there, so it's a really cool exercise for me," he said. "And I think it will definitely help when it comes to our offensive game plan and other teams' defenses. I think it's a good tool for me and I'm really embracing it."
"We've done some carded stuff on scout team where he has been able to get out there and throw it a little bit, so he's getting a few more reps," added starting QB Ryan Fitzpatrick. "But the biggest thing with him right now is he has to put the time in. He's got to swallow his pride and just work his tail off. Focus on becoming on becoming a better Christian Hackenberg every single day."
The Graduate AssistantFitzpatrick, who set a franchise record with 31 TD passes in 2015 while nearly passing for 4,000 yards, is entering his 12th NFL season and 5th with Gailey. In a sense, Fitzpatrick has become Hackenberg's graduate assistant.
"He doesn't know me, but for three and a half weeks now he's been really receptive. We went out golfing the other day," Hackenberg said. "He pulls me in the film room. If I'm sitting in there, he will come in there and sit down with me and just start asking me some questions, drilling me on some things and talking about some things. It's really cool to have a figure like that in the room. I think for all of us, but definitely personally for me."
The two passers have a well-documented common connection in Bill O'Brien. Under O'Brien, Hackenberg threw for 2,955 yards and 20 touchdowns his freshman season. Then a year later with O'Brien in Houston, Fitzpatrick completed 63.1% of his passes with 17 TD and 8 INT over the course of 12 games.
"It's very tough to come out of college and to step in and play this game, but I will say that he is a little more advanced mentally than most quarterbacks coming in," Fitzpatrick said of the rookie. "And I think a lot of that comes from that one year he got to spend with Bill O'Brien."
"Yeah that definitely is something that both he (Fitzpatrick) and I can talk about, but I think it was invaluable for me," added Hackenberg. "He came right to Penn State after coaching Tom Brady so that's really the standard he held every guy to. He held Matt McGloin to it in the year he had in 2012 and then he held me to it in 2013, so I really didn't know any better. I think just being lucky enough to have the base of knowledge that he taught me the game in a very simplistic, yet complex way."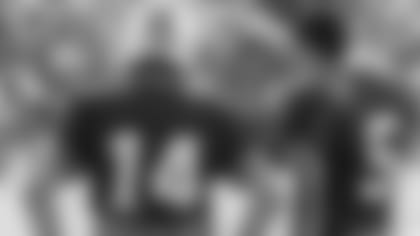 Only Just BegunA football junkie, Hackenberg is currently adapting to his third offensive system in four years. After starting 38 games at Penn State and finishing as the school's leader in passing yards (8,457) and passing touchdowns (48), the 6'4', 228-pounder knows Gailey will demand quick, sound decisions.
"It's very multiple," he said of the Jets' attack. "He definitely wants to get the ball out quick and get our playmakers out in space. To be a quarterback in here, you have to be a smart guy and know where to go with the ball before its snapped, really take some pressure of the offensive line and be able to identify things"
The identifying could come as soon as Friday evening.
"I think it's always valuable for all quarterbacks in those game-like situations to get out there," Fitzpatrick said. "And you're going to learn a lot more doing that. You can only learn so much in the classroom I guess, so he'll learn a lot more getting out there on the field and getting some reps."
It's been a quick four months for Hackenberg. After participating in OTAs and minicamps plus three weeks of training camp, his first of many NFL tests may be here.
"I haven't really had much time to be able to sit down and think about it," he said. "It's obviously a dream come true. I think its super cool to be here. In a sense you've arrived, but in a sense you've only just begun."