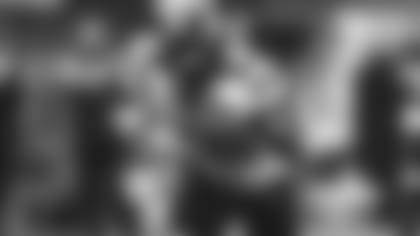 All things considered, Carl Lawson seems to think his return to action with the Jets this past season was worth the wait.
"Yeah, me personally, just being able to come back and play at a high level, compared to where I was last year at this time to this year, it's leaps and bounds," Lawson said. "I'm just looking forward to continue to grow upon that."
Lawson's not one to pat himself on the back. He deflected the first question from newyorkjets.com's Caroline Hendershot from himself to his unit but he had a similar take on what he was most proud of about his teammates on his side of the ball.
"Just how we grew as a defense," he said. "Last year we were, like, 32nd, and just to see where we are now is a testament to the work we put in. So I think that's the biggest part of what I liked about the season."
But while Jets fans are well aware of the D's top-five rankings in yards and points allowed, it's encouraging to take one more look at what Lawson accomplished flying mostly off the right edge beginning a little over one year after his injury in August 2021.
■ His seven sacks were his most in his last four seasons, or since he racked up 8.5 takedowns as a Bengals rookie in 2017.
■ His career-high 24.0 QB knockdowns were sixth among NFL defensive ends, according to statspass.com.
■ His 51 QB pressures, as measured by Next Gen Stats, were tied for 10th among D-linemen, and were actually two ahead of interior DL mate Quinnen Williams' 49 pressures.
■ His 24 QB hits, the pressbox stat that is slightly different than the knockdowns above, was tied for ninth among D-linemen.
Further, because he was brought along a little slower, in part since it was his first season back after the injury and in part due to head coach Robert Saleh's DL rotation, Lawson had just 556 defensive snaps, so he averaged 23.6 snaps for every QB hit — the second-best mark among the league's linemen behind only the 49ers' uber-productive Nick Bosa, who put a hit on the quarterback every 15.5 snaps.
Lawson thinks those metrics bode well for a healthy and happy 2023.
"This was basically my first year in the front and I was coming off an injury, so I'm so excited about what I'm going to do in the offseason to take my game to the next level," he said. "I didn't do any football all last year until I got into camp, so that alone is huge, just huge. And having my body starting to return to me this offseason and not have to worry about it so I can work on my craft, I'm really excited. That's all I've got to say."
All except for one more optimistic hint about what lies ahead, for him and also for the Jets defense.
"I'm excited for the future," Lawson said, "because it could be scary."