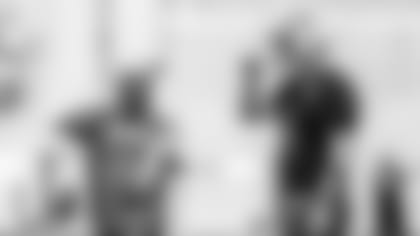 Since May's rookie minicamp when quarterback Sam Darnold first buckled his chinstrap as a member of the Jets, he's buried his head in the playbook.
Four-plus months later, not only has the 21-year-old earned the starting job under center, but he's won the respect of both his teammates and his coaches.
"I think it's just work hard, both in the classroom and on the field," offensive coordinator Jeremy Bates said. "He's very humble and he's a perfectionist. I think at the end of the day, what's a leader? You have to be yourself. He's himself every day, he doesn't change. He's very flatline as far as his personality. He's kind of just been Sam and naturally he's a natural born leader." 
As Bates and Darnold prepare for the USC product's regular season debut against the Lions Monday night, Bates has stressed the importance of team football.
"Just understand that there's 10 other guys on every single play in football," he said of his expectations. "That's the art to it. It takes 11 guys on every play, so we have to work together as a team and as a unit. It's not just one guy, it's 11 guys on every play. If all 11 guys are working hard and executing great, then we are going to be successful."
Bates is ready for a four-quarter fight as he's faced Lions head coach Matt Patricia multiple times when Patricia served as the Patriots' defensive coordinator (2012-17). However, Bates' approach and preparation with his signal caller has not changed despite turning to the regular season.
"We took the preseason the same way — just get the practice, get the routines," Bates said. "We had the same meetings. It's a 16-week season and we use those four games as trial runs, but everything stays the same. We've had Mondays, Tuesdays and Wednesdays just like we would this week. In my opinion, you don't change. You stay consistent. You stay on schedule and every week it just becomes this is who we are, this is how we do it."
While Darnold had an impressive preseason, completing 64% of his passes and throwing for two touchdowns and one interception in three games, he did average just 5.4 yards per pass. Head coach Todd Bowles said the team had called for a couple deep shots, but the looks weren't there and Bates is confident in Darnold's ability to push the ball downfield. He pointed to the preseason opener against the Falcons when April's No. 3 overall pick led the Green & White on a scoring drive with 2:31 remaining in the first half.
"I think obviously we want more yards, but at the end of the day we have to manage the game as far as the quarterback plays," Bates said. "We cannot turn the ball over, number one. We have to throw completions and we have to stay on schedule. We have to give our defense a good chance with field position also.
"It's really an interesting game because you have to base it on the preseason, which is hard because you're not playing four quarters. What's the situation of the game? Are we up by some points? Are we down by points? Really stats, at the end of the day, I try not to look at them. To me, the most important thing is wins and losses."